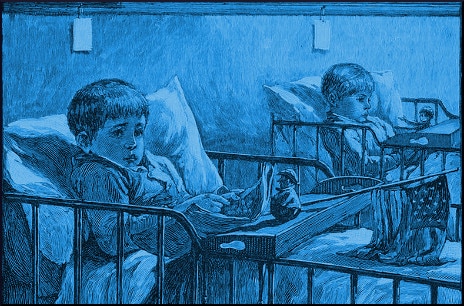 We have been looking at the two different time frames connected with childhood obesity. One is "some day" and the other is "now." Growing up obese can have all kinds of consequences in later life, including less of that life as measured in years. However, consequences don't always wait for later.
For instance, JAMA Pediatrics published a report titled "Influence of Obesity on Clinical Outcomes in Hospitalized Children." This was a meta-study, a survey of 28 other studies of humans age 2-18 years of age, who were hospitalized for various urgent reasons. The researchers, led by Lori J. Bechard (MEd, RD, LDN) were looking for three things: "all-cause mortality, incidence of infections, and length of hospital stay." Of the studies that mentioned length of stay, almost half showed that obese kids were hospitalized longer.
The team found a meaningful relationship between obesity and infections, and more:
Studies of critically ill, oncologic or stem cell transplant, and solid organ transplant patients showed a relationship between obesity and mortality.
Hospitals are known to be full of infectious agents. For this and other reasons, obese patients do not fare well in the average hospital. In this way they are like newborns. On a related note, births by Caesarean section are losing favor in the eyes of many practitioners, because the baby doesn't pick up essential microbes from the mother, and instead becomes colonized by the microbiota of hospital workers, other patients, and random strangers.
Maybe this is why siblings can be so different, and not even seem like they come from the same family. It could be that their lives were shaped by, first, deprivation of their rightful share of maternal bacteria; and second, by taking on board a mixture of bacterial species that would not insure optimal health.
The gut microbiome is increasingly recognized as an organ in the human body. A baby literally builds for itself this important, major organ, out of whatever types of gut microbes happen to be available, by whatever means. Even if they are the same bugs you would have gotten from Mom, you're not getting Mom's immunities.
Denial
Recently we looked at a study of hearing loss, as related to obesity. At the time of that paper's publication, it was already known by scientists in other fields that 80% of the adolescents who have hearing loss don't even realize it. When tested according to traditional protocols, they are surprised to learn that their hearing is not normal.
In many ways and places, lack of awareness is rampant. A 2013 survey asked Americans what they knew about major health risks of obesity, and learned that most people only know about heart disease and diabetes, but are clueless about other co-morbidities such as cancer, sleep apnea, and arthritis.
Last year, researchers in London questioned 5,000 kids between ages 13 and 15. Among overweight and obese adolescents, around 40% of them figured they were at "about the right weight." How to cure this delusion without causing even more harm is the eternal question.
Your responses and feedback are welcome!
Source: "Influence of Obesity on Clinical Outcomes in Hospitalized Children," JAMANetwork.com, May 2013
Source: "Obesity survey suggests many Americans don't know fat can cause cancer, infertility," CBSNews.com, 01/07/13
Source: "Overweight teenagers in denial about obesity at risk of up to 10 different types of cancer," Telegraph.co.uk, 07/09/15
Photo credit: Internet Archive Book Images via Visualhunt/No known copyright restrictions