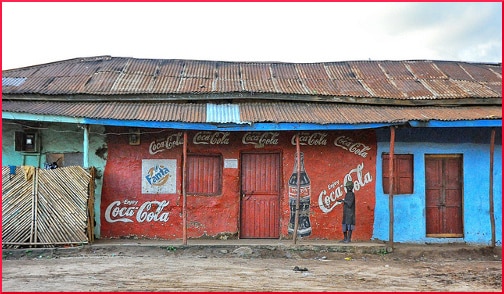 Yesterday, thanks to in-depth reporting provided by U.S. Right to Know, we started to learn about the strange career of Dr. Michael Pratt, senior Centers for Disease Control official, whose coziness with the soft drink industry violates many people's comfort level.
Coke, of course, is all about Energy Balance, the doctrine that absolves Big Soda of any blame for the obesity epidemic. If people gain weight through consuming massive amounts of sugar-sweetened beverages, it's their own darn fault for not doing enough push-ups or running enough laps around the track. Personal responsibility is what they preach, and their faith in the ability of people to work off all those calories is simply touching.
While employed by the government (and the American people) Dr. Pratt has also sat on the Board of Trustees over at ILSI, the Coke-funded nonprofit so-called charitable organization founded by Alex Malaspina. Dr. Pratt's name appeared on ILSI's website as a Trustee until August, when this whole controversy blew up, at which point that information was removed from the page.
Malaspina's association with another CDC official, Dr. Barbara Bowman, led to her abrupt resignation this summer. Carey Gillam wrote:
Pratt's ties to Coca-Cola and ILSI are similar to those seen with Bowman… The relationships raise fundamental questions about how close is too close when public officials collaborate with industry interests that can conflict with public interests.
In a followup article, Gillam lists some of Dr. Pratt's already-known activities and adds:
Pratt has a long history of promoting and helping lead research backed by Coca-Cola and ILSI… CDC spokeswoman Kathy Harben said […] if the public wants to know if Pratt has properly disclosed conflicts of interest and received approvals for his outside work, we have to file a Freedom of Information request.
Of course this obfuscation prompted Gillam to look even more closely at what was going on, and almost immediately there was more to report. It had been a set of FOIA-obtained emails that contained information damaging enough to cause Dr. Barbara Bowman to resign, rather than face any consequences. This same collection of data also held enough embarrassing facts about Dr. Michael Pratt to inspire others at the Centers for Disease Control to take action.
A group of "more than a dozen" senior scientists filed an ethics complaint, in the form of a letter to the Chief of Staff. Their identities are unknown because they fear retribution, but they are concerned. The protest group is known as CDC SPIDER, which stands for Scientists Preserving Integrity, Diligence and Ethics in Research.
The things about Dr. Pratt that don't look right, Gillam says, include:
[…] promoting and helping lead research funded by Coca-Cola while being employed by the CDC… [and] working closely with ILSI, which advocates for the agenda of beverage and food industries… Several research papers co-written by Pratt were at least partly funded by Coca-Cola, and Pratt has received industry funding to attend industry-sponsored events and conferences.
CDC SPIDER's letter said:
These questionable and unethical practices threaten to undermine our credibility and reputation as a trusted leader in public health.
Your responses and feedback are welcome!
Source: "More Coca-Cola Ties Seen Inside U.S. Centers For Disease Control," USRTK.org, 08/01/16
Source: "What Is Going on at the CDC? Health Agency Ethics Need Scrutiny," USRTK.org, 08/29/16
Source: "Dr. Michael Pratt," USRTK.org, 10/20/16
Photo credit: Rod Waddington via Visualhunt/CC BY-SA