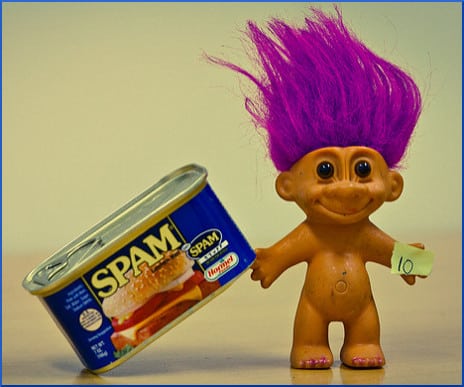 From Vancouver, Canada, comes a YouTube series, the Ask Daniel Show, which provides not only recipes but health tips of all kinds, as well as life hacks such as how to keep kale fresh for longer. Last month's "Cheesy Fajita Nuts" episode, for example, features great production values and a charmingly hammy delivery.
The star is 11-year-old Daniel Bissonnette, whose preferred eating style has been organic and vegan for quite some time. He told reporter David P. Ball that classmates used to call him weird, but "Bullying is only bullying if you allow it to bother you."
Eventually he decided to speak to his class about food, and then to the whole school, and went on to publish a breakfast cookbook for kids. Why do children and youth have so much trouble maintaining a worthwhile diet? Daniel blames the tricks employed by advertising.
Trolls is an animated film voiced by Anna Kendrick and Justin Timberlake, whose protagonists are the little good luck figures with the big hair. Kerry Lengel reported for Arizona Republic:
The Trolls are prisoners of an ugly race of ogre-like creatures […] who have an annual holiday called Trollstice, when they eat the little cuties to ingest their positive vibes and experience happiness just one time every year… The Trolls are so happy and adorable that they literally poop cupcakes and pass glitter instead of gas.
The ogre-like creatures are called Bergens, and even though they only eat trolls one day each year, their tribe suffers from a childhood obesity epidemic. In red states, this (among other aspects of the movie) signals unwelcome liberal propaganda.
Other viewers find it goofy, big-hearted, and charming. Variety critic Owen Gleiberman clarifies one of the themes:
The Trolls are happy, but the Bergens, in their depressive and unkempt brown-walled village, actually do want to be happy. What they don't realize is that you can't achieve happiness by stuffing your face with Trolls, or (by implication) with anything else.
In August of this year (in honor of the 60th anniversary of President's Council on Fitness, Sports & Nutrition) Funny or Die released a video called "The History of Exercise," which stars Nick Offerman and Michelle Obama. The production was co-sponsored by the First Lady's "Let's Move!" campaign and fits right in with it.
To the accompaniment of snatches of appropriate music, Offerman demonstrates the exercise equipment and devices popular at various stages in American history. We see him passively submit to a vibrating machine that purports to shake fat away and an electrical gadget that claims to melt it away.
He actively grapples with a rowing machine, an ab wheel, a ThighMaster, and so on. AdWeek writer Gabriel Beltron divulged these details:
The team shot the 2:30 video at the White House in the South Court auditorium. Appearing under the hashtag #0to60, the clip is part of a broader campaign to encourage physical activity that also includes a new app and website with fitness and nutrition tips. It's ultimately on point—no matter the approach, the important thing is doing something to stay healthy. That should be a relief, because it means you can leave behind the infomercial gear and just go for a run, or a swim, or a bike ride.
In July of this year, SAGE Publishing announced the journal Childhood Obesity and Nutrition. The editor, Dr. Goutham Rao, said:
Our goal is to create a multi-disciplinary forum for novel ideas that can inform our current understanding of pediatric obesity… We welcome submissions from a diverse range of authors including professionals in the fields of nutrition, nursing, physiology, pharmacology, medicine, education, exercise science, community engagement, and public policy.
However, the publication does not appear to have done anything yet. Its current issue is still listed as December 2015 — in other words, back when it used to be Infant, Child & Adolescent Nutrition.
Your responses and feedback are welcome!
Source: "Healthy eating 'superhero' says kids would reject junk food if they knew what's in it," MetroNews.ca, 11/04/16
Source: "Review: 'Trolls' formulaic and forgettable," StatesmanJournal.com, 11/02/16
Source: "Film Review: 'Trolls'," Variety.com, 10/18/16
Source: "History of Exercise with Nick Offerman and Michelle Obama," YouTube, 08/31/16
Source: "Nick Offerman and Michelle Obama Take You Through Six Decades of Exercise Fads With Soundtracks to Match," AdWeek.com, 08/31/16
Source: "SAGE Publishing's childhood obesity and nutrition journal becomes OA, expands scope," SAGEPubl.com, 07/14/16
Photo credit: TimOve via Visualhunt/CC BY