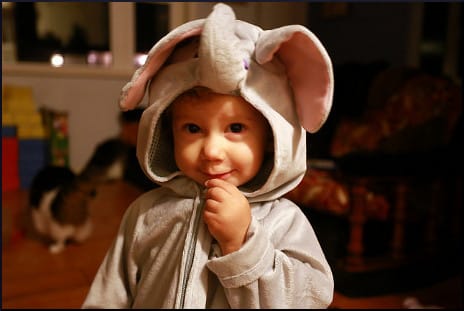 Childhood Obesity News has offered numerous posts explaining the insidious harm that can be done by Halloween. Here's a quick review of the holiday's disadvantages, along with some suggestions for "best practices" that can bring about great improvement in the results without losing any of the fun.
It's easy for a parent to self-delude and think, "What the heck? It's only one day. How bad can it be?" The thing is, there might be a whole series of parties — school, church, neighborhood, friends — that provide many opportunities to overindulge. Altogether, they can contribute a stash of sugar bombs that hang around for a long time.
One researcher figured out that an average trick-or-treat bag adds up to three cups of sugar and 4,800 calories. Another determined that Americans gobble down about 4% of their annual candy consumption on that one day, which is about 14 times as much as an ordinary day's intake.
Additionally, the spook festival kicks off the quadruple-threat constellation of winter holidays that traditionally include Thanksgiving, Christmas, and New Year. In our multi-cultural society, a number of other religious and ethnic holidays also pile on.
For kids, when all is said and done, it's not unusual to see a gain of seven to 10 pounds, by springtime, that are not part of normal growth. If Halloween eating can be minimized, that delays the weight-gain trend that can otherwise resemble the proverbial snowball rolling down a hill.
It gets worse
And those are just the problems facing "normal" kids. The negativity quotient rises when allergies and the specter of food addiction are taken into account. Dr. Pretlow, of course, specializes in dealing with children who are already overweight or obese. The extensive information gathered from actual kids, via his Weigh2Rock website, tells a sadder tale. For heavy kids who are already struggling Halloween is one of the year's most difficult times. Its approach generates anxiety and shame, and, for some, absolute dread.
New goals
What we want to do is remember three key points: minimize candy acquisition, retention and consumption. And then there is a very important fourth point, which is changing this problematic holiday into an opportunity for family togetherness. As we have said before: When a family puts time and energy into a project, they get extra mileage out of the holiday, with zero (or drastically reduced) caloric input.
The idea here is to imagine something wonderful, design it, and turn it into reality. Yes, it is possible. When the American Dental Association did a Halloween Consumer Study, they learned that nine out of 10 kids would still like Halloween if the candy aspect were muted and the opportunities for other types of fun were increased.
How to proceed
First-time parents have a great advantage because often they can get away with simply ignoring Halloween. Without older siblings who are accustomed to the old ways, that tactic is a lot easier to get away with. Parents of very young children are also advantaged when it comes to refocusing on the fun part. Little kids want face-time activities with Mom and/or Dad that provide positive attention in a playful context. For them, it's worth more than edible treats.
If more than one grownup is involved with raising a child, they need to get together to clarify and solidify the position. Allies need to be recruited. If there is a babysitter, a nanny, grandparents, or neighbors in the picture, everyone needs to be gently but firmly initiated into the new paradigm. Parents need to inform themselves about what the plans are at their children's daycare center, preschool, or grade school.
If at all possible, jump in there and influence those plans! Help to create sugar-free events, and shift the emphasis from consumption to action. In some communities, troops of costumed kiddies are taken to assisted-living facilities and retirements homes, to parade for the delight of the residents. This is a great idea, especially if the staff members are specifically requested to leave candy out of it. The chance to be seen and admired is quite enough of a reward for a little child.
We also recommend a short work of imagination called "My Halloween, by Curly." Narrated by a fictitious child, it's about a dad who knits together a number of fresh suggestions and stage-manages a new-paradigm Halloween for his own child and five friends.
Your responses and feedback are welcome!
Photo credit: Martin Cathrae via Visualhunt/CC BY-SA