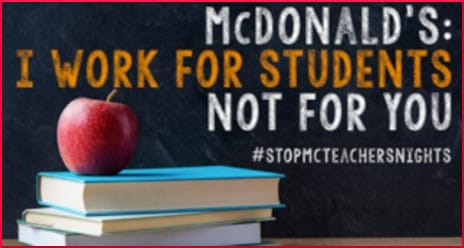 How has McTeacher's Night lasted so long? Lorraine Chow wrote for AlterNet.org an enormously long and detailed examination of the program. She interviewed some teachers about why they have participated, and these are (slightly condensed) the answers she received:
Teacher #1: "If my classroom were struggling and doing this for one night would buy me a tiny bit of relief, I would consider doing it. Parents take their kids to McDonald's anyway."

Teacher #2: "Why only target McDonald's over unhealthy foods? We already sell soda pop in school vending machines."

Teacher #3: "I don't like it… [U]sing free labor for funds that the state should already provide."
David Bear, who owns 16 McDonald's outlets in Illinois and has hosted hundreds of McTeacher's nights, told the reporter:
We are people who live in the community and we're trying to find ways to help back with the school systems, park districts, libraries and all those civic organizations that need additional funding.
Even though they reportedly keep 80% of the money that comes in, the franchisees apparently do not fare well. They pay for the special T-shirts the teachers wear while volunteering. One would think that having that extra labor force would lead to some of the regular employees being given the evening off, but one would be mistaken.
Apparently, a McTeacher's Night requires even more than the usual number of staff, who of course have to be paid. Still, the Food Chain Workers Alliance has its own reasons for disliking these events.
Chow also interviewed Julie Travers, community relations director for Illinois franchise owners (not the branches owned by the corporation itself). Travers, who had organized somewhere around 300 McTeacher's Nights, told the writer she had "never seen any negative remarks from teachers or parents."
So there's that, which will have to suffice as an answer to one of our initial question: How has this program, which has many unattractive features, hung on for so long? People like junk food. And they like their kids to have art supplies and sports equipment at school. In many neighborhoods, this chance to make a little money for their cause is the best offer they will get all year, even if it does mean also helping McDonald's to rake in a pile.
The pushback
Last year, mid-October saw a flurry of activity in the anti-McTeacher's Night movement. Two unions, representing over three million teachers, administrators, education experts, and school nurses, got involved. The National Education Association (NEA), some chapters of the American Federation of Teachers, and other organizations sent an open letter to the corporation's CEO suggesting that he act to terminate the travesty.
The NEA and Corporate Accountability International (an advocacy group) and over 50 teachers' unions held protests in Los Angeles and Chicago. At a McDonald's shareholder meeting, Jesse Sharkey of the Chicago Teachers Union gave a ruthless assessment:
It is wholly inappropriate for McDonald's to exploit cash-strapped schools to market its junk food brand, while miring its workers in poverty, effectively hollowing out the tax base for our schools. In Chicago we face potentially devastating cuts to our schools, yet one of the world's richest corporations operating in our backyard is exploiting this situation by eroding the school food environment and our students' health in the long run.
Earlier this year, Corporate Accountability International collaborated with the watchdog group Campaign for a Commercial Free Childhood to create an online action center. The latter organization's message is:
McDonald's is exploiting the hard-earned trust, respect, and popularity of teachers to sell junk food to kids and create brand loyalty.

McTeacher's Nights take advantage of cash-strapped school budgets…

It's shameful that McDonald's is using the tragic underfunding of our public schools as a marketing opportunity. Teachers should never have to sacrifice their students' health in order to earn a few extra resources for their classrooms.
Your responses and feedback are welcome!
Source: "McDonald's McTeacher's Nights: Community Fundraising or Sick Plot to Hook Children on Junk…," AlterNet.org, 05/17/16
Source: "Iowa teacher takes his 'McDonald's diet' to schools, irking critics," Reuters.com, 10/14/16
Source: "Stop McTeacher's Nights," CommercialFreeChildhood.org, undated
Image by newdream.org