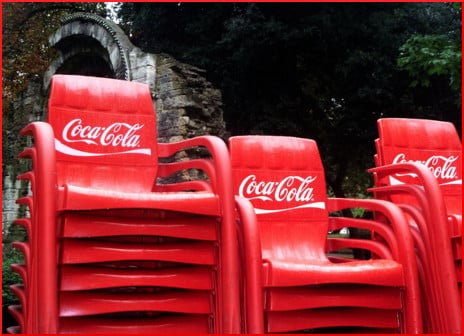 It is still Childhood Obesity Awareness month, and school is back in session, so this is a good time to catch up with the McTeacher controversy. We briefly mentioned the program in the past, and formulated two questions. First, couldn't teachers simply call a boycott and refuse to participate? Second, how has the program managed to hang on for so long? Now we revisit the phenomenon of "McTeacher's Night" in search of answers.
The program started long enough ago that, by 2002, McDonald's reported that 2,500 schools in 14 states were partaking. At present, only about one-fifth of McDonald's locations are run by the company itself, while four-fifths are owned by franchise holders and entrepreneurs, and their events are supposedly not regulated or even tracked by the main office.
Many of the franchisees, according to AlterNet.org, are on the "verge of collapse." This is sad for the small business owners and their employees, but looking at the big picture, maybe the world doesn't really need quite so many fast-food joints.
Slim reward
Early last year, MotherJones.com published an article that explored "5 Devious Ways McDonald's Markets to Kids," and guess which tactic rated first mention? The story described how teachers and other staff members are allowed to work for free and give kids the thrill of hearing these respected grownups ask if they want fries with their order.
Journalist Kiera Butler's research found this tidbit:
During a recent McStaff Night in Cardington, Ohio, teachers from the Cardington-Lincoln Junior High School "conducted promotional type activities by greeting diners, offering samples, etc." The grand total the school earned: $191. Profits for McDonald's: $1,273.
Does that seem right? To snatch away the free evening time of several teachers and encourage the eating of sub-optimal food for such an insultingly small percentage of the take? The compensation is so paltry that the participating branches ought to be ashamed of themselves for exploiting the long-suffering teachers who give up their evenings to serve meals to their students and the kids' parents, and go home with hair smelling like fry grease.
For this, they get between 15% and 20% of the evening's take, a source told AlterNet's Lorraine Chow; and $1,000 is said to be about average. On the other hand, a corporate spokesperson claimed that company-owned restaurants paid out more than $2.5 million in a two-and-a-half year period, which would divide out to a million per year.
A McTeacher's Night is held not for a school's general budgetary needs, but for a specific purpose. Chow gave the example of an Illinois fundraiser for a nine-year-old student who lived with her or his mother in a Ronald McDonald House, waiting for a heart transplant. A representative of the host McDonald's branch said that the student and his or her mom received "roughly $2,000."
Extrapolating from that, it would seem that the business owner made somewhere around $8,000. Chow wrote:
The vastly different opinions about McTeacher's Nights arise because some people think McDonald's is the American dream while others consider it a nightmare… A $1 cheeseburger that's available in 14,000 locations across the U.S. is a boon to working-class families… At the same time, that cheap cheeseburger is the junk food devil fueling the country's diabetes and obesity epidemics.
One of the many journalists who covered this topic also notes that McDonald's was the only member of the Children's Food and Beverage Advertising Initiative who refused to promise not to advertise to kids younger than six. Meanwhile, the corporation's USA president was telling stockholders that presence in schools is the company's "heritage."
Your responses and feedback are welcome!
Source: "McDonald's McTeacher's Nights: Community Fundraising or Sick Plot to Hook Children on Junk…," AlterNet.org, 05/17/16
Source: "Beyond Happy Meals: 5 Devious Ways McDonald's Markets to Kids," MotherJones.com, 03/20/15
Sillas
Photo credit: Gonmi via Visualhunt/CC BY