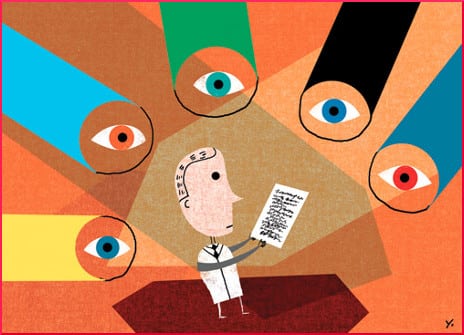 Dr. David Ludwig, a well-known figure in the childhood obesity field, teaches at Harvard University and is founding director of Boston Children's Hospital's Optimal Weight for Life program. His work is based on the premise that the body can be convinced to accept a new, lower "set point."
For The New York Times, Anahad O'Connor reviewed Dr. Ludwig's book Always Hungry? and asked the author a number of questions, beginning with the underlying cause of obesity. Here is an excerpt from that answer:
It's the low fat, very high carbohydrate diet that we've been eating for the last 40 years, which raises levels of the hormone insulin and programs fat cells to go into calorie storage overdrive. I like to think of insulin as the ultimate fat cell fertilizer.

Insulin programs the body to store calories, and most of those calories get stored in the fat cells. If you've got too much insulin, you're going to store too many calories.
Social worker, attorney and trained therapist Rebecca Jane Weinstein presides over PeopleOfSize.com, a community that provides information, support and interaction. Her book, Fat Kids: Truth and Consequences, is described as containing "deeply personal tales and essential information, focusing on the lives, questions, and concerns of parents and children living in a childhood obesity crisis."
Its press release says:
Fat Kids powerfully combines interviews, relevant research, social anecdotes, personal author accounts, and the reality of children struggling with weight, to create a narrative that is profoundly poignant, accessible, and essential for understanding our current war on fat.
Weinstein is also author of a rhyming children's book, Ella's Tummy, which covers teasing and bullying, eating disorders, disdain for the overweight, parental self-esteem building, and other pertinent issues.
Another book for children, Fartzee Shmartzee's Fabulous Food Fest, is illustrated with cartoon characters because author Adam Michael Segal noticed how successful they were at selling products, and deduced that they might also be useful, along with humor, to sell ideas. Already an experienced writer about health and wellness, Segal was motivated by the school activities of his own two kids, which included many treat rewards and institutional fundraisers that basically depended on having the students sell junk food.
Spencer James developed a one-man show called "How to Hide a Fat Kid" to chronicle the struggles he experienced as a child and a young man. He had addressed obesity as a stand-up comic, but told a journalist:
I wanted to talk more about what the impacts are when you don't like your own body and you're simultaneously going through all the insecurity and crazy self-doubt of being a kid and then a teen-ager.
In James's case, there was the additional stress of growing up in a constantly relocated military family. The stories begin with worrisome memories of waiting for the bus on the first day of school. For the longer-form stage presentation, he was aided by playwright Steve Stajich who related to the problems and said:
I had weight issues when I was a kid, and sometimes it just felt overwhelming. You wear goofy oversize clothing, you avoid certain things… You hide.
Your responses and feedback are welcome!
Source: "Rethinking Weight Loss and the Reasons We're 'Always Hungry'," NYTimes.com, 01/07/16
Source: "Fat Kids: Truth and Consequences — Essential Reading about Childhood Obesity," PRLog.org, 11/02/14
Source: "'Fartzee Shmartzee' book character educates children about healthy eating,"
CanadianInquirer.net, 04/15/16
Source: "Award-Winning Comedian Spencer James to Perform His One-man Show 'How to
Hide a Fat Kid'," PRWeb.com, 10/22/14
Photo credit: AJC ajcann.wordpress.com via Visualhunt/CC BY-SA