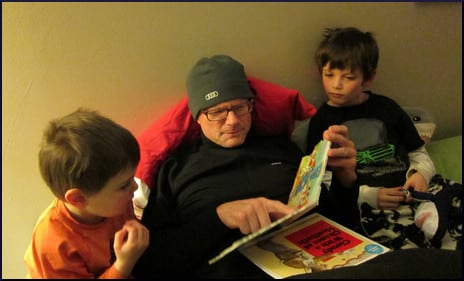 (This is a random sampling of what's out there and why and by whom. A mention implies neither endorsement nor its opposite.)
Nanny Goat Chunks Up is the creation of Thomas Hund, a former Phys Ed teacher whose grandchildren inspired his second career as a writer of children's books. The publisher's description says:
Nanny Goat is expected to help other animals on Cloonie's Farm because she is in very good physical condition. But as time goes by an unwanted change takes place. Slowly her abilities lessen and her weight increases. Her animal friends point out why this is happening. Nanny Goat has decisions to make. The lesson learned: It takes a lot longer to get into shape than it takes to chunk up.
That is indeed a valuable lesson, because one of the main things to know about childhood obesity is that it needs to be turned around early. The longer a child stays overweight, the more the body adjusts to that as its natural condition.
In The Biting Spiders' New Diet, an illustrated book meant for 5- to 8-year-olds, Wendy the black widow spider urges her fellow spiders to avoid extinction by improving their diets, i.e. by making the switch from human blood to fruits and vegetables. A fundraising effort designed to raise money for a theatrical version met with no success, perhaps because of the confusing product page which begins:
I am a child author who wrote a book called the biting spiders new diet to fight childhood obesity.
This clumsy bit of text does not capitalize the book title or even give a clue about exactly where the title ends. Additionally, the phrase "I am a child author" suggests that author Farrah Mitchell is a child, which is not in fact the case, since Ms. Mitchell (according to the book's Amazon page) holds a Master's Degree in Educational Administration.
Mrs. Rachel E. Fielding published I Can Be Healthy!, a food and exercise journal for children from 5 to 10 years of age. It was created because when dealing with her own daughter's obesity, Mrs. Fielding could not find such a book.
For parents, the same author has also published Our Journey… How We Beat Childhood Obesity. The Fieldings "abandoned everything we thought we knew and devised a program that worked" to help their own child who eventually lost 45 pounds, although it took 9 years.
Mrs. Fielding hopes that her family's story can be a stepping stone to help other parents reach the heights of empowerment to "rid their own children of the senseless disease of childhood obesity." She speaks of answers that "can not come from people who haven't climbed this very mountain themselves" and adds:
We now know that we hold certain truths, which while are not always easy, are the cure (the only cure) to this heinous disease.
Your responses and feedback are welcome!
Source: "Children's Book Author Releases New Book About Childhood Obesity Using Animal Characters," PRLog.org, 10/03/13
Source: "Farrah Ferrari Mitchell," Facebook.com, 11/11/15
Source: "I Can Be Healthy!," Amazon.com, undated
Source: "Our Journey… How We Beat Childhood Obesity," Amazon.com, undated
Photo credit: Neeta Lind via Visual Hunt/CC BY