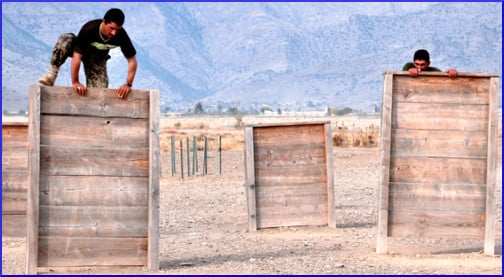 Whenever we see a headline about how the obesity epidemic impacts military preparedness, chances are it originates from Mission: Readiness, an organization whose membership comprises more than 500 senior armed forces leaders who spent the latter part of their careers as generals, admirals, and other high-ranking officers. Mission: Readiness describes itself as a "nonprofit, nonpartisan national security organization of senior retired military leaders calling for smart investments in America's children."
In 2010, the group released "Too Fat to Fight," a report with a straightforward ambition — "Retired Military Leaders Want Junk Food Out of America's Schools." They see obesity through the lens that comes most naturally to members of their profession, as an actual enemy. The report stated that among American youth between the ages of 17 and 24, 27% of potential recruits were too fat to be accepted into the armed services. In a few states, notably Alabama, Kentucky and Mississippi, over 50% of the young adults were categorized as obese.
Many civilian employers have physical requirements or barriers in place. To deliver packages for United Parcel Service, for instance, it is obvious that the applicant will need to be able to lift and carry a certain number of pounds repeatedly throughout the day. But there is more to the story.
Even in jobs that don't have these requirements, physical fitness can be an important part of workplace productivity. And a high fitness level is proven to improve cognitive function, positively affect mood, and increase efficiency.
This author also mentioned that according to a health and productivity research firm, companies rated highly effective tend to have employees whose obesity rate is 25% lower than those in "low effectiveness" companies. The average civilian might think, "What's the problem? Boot camp will whip those flabby recruits into shape." Unfortunately, that is not how human physiology works. As retired Brigadier General Tim Kennedy says:
The military cannot undo a lifetime of bad habits in a few weeks of physical training.
In 2014, one article article referenced research estimating that in the civilian sector, the cost of missed work days and decreased productivity associated with obesity was over $70 billion per year. In the same year, the U.S. military establishment was said to be spending $1 billion per year on obesity-related diseases. By the following year, it was said that the military health system spent more than $1.5 billion every year to treat obesity-related health problems and to replace service members discharged because of physical unfitness.
Two retired Coast Guard Master Chief Petty Officers, Charles Bowen and Vincent W. Patton III, wrote a piece stating that the negative impact of obesity is growing. When 17-to-24 year-olds apply to be accepted, there are three major reasons for rejection: substandard education, a "serious" criminal record, and being overweight. Statistics from the Department of Defense showed that 70% of the young people in America would not be eligible for recruitment due to one of those three reasons. More than one youth in five is too heavy to meet the military standard. The authors emphasized:
This is not just a societal issue. This is not just a recruitment issue. It is a national security issue.
This national security issue is strongly related to school lunches, as was emphasized by Samuel E. Ebbesen, who ought to know. The retired Lieutenant General served as deputy assistant secretary of defense for military personnel policy. He was, in other words, "responsible for recruitment, retention and related human-resource management" of the 1.4 million armed services active-duty members.
Not only are nearly one-third of young adults too fat for potential military recruitment, the active-duty sector is out of shape too, with 12% of active duty military personnel classified as obese. Worse, this number has more than doubled since 2002. Ebbesen brings up another dimension of the problem, in terms of both human suffering and impact on the national budget.
Of the money spent by the Veterans Administration each year on disability payments to veterans, more than $5 billion is accounted for by musculoskeletal injuries that probably would not have occurred if the person was of normal weight. The situation is, in essence, a mess.
What does this have to do with school lunches? The Obama administration's Let's Move! Campaign included legislation to improve the quality of food and eliminate the pervasive presence of high-fat and high-calorie lunch offerings. As we have seen, there was a backlash, or what Ebbesen calls a "misguided effort to retreat from" the more healthful meals and snacks, resulting in noncompliance and waste.
In the mind of Mission: Readiness, combat preparedness begins at the kindergarten lunch table and continues throughout childhood with kids, hopefully, walking or biking to school and using every other possible means to stay in shape.
Your responses and feedback are welcome!

Source: "Too Fat to Fight," MissionReadiness.org, 2010
Source: "US Military Takes On Childhood Obesity," wordpress.com, 06/16/14
Source: "Minnesota Generals' group says young people are too fat to fight," GrandForksHerald.com, 04/30/15
Source: "Childhood obesity means fewer recruits," MissionReadiness.org, 2014
Source: "General: School lunches are U.S. national-security issue," Reuters.com, 04/15/15
Photo credit: NATO Training Mission-Afghanistan via Visual hunt/CC BY-SA