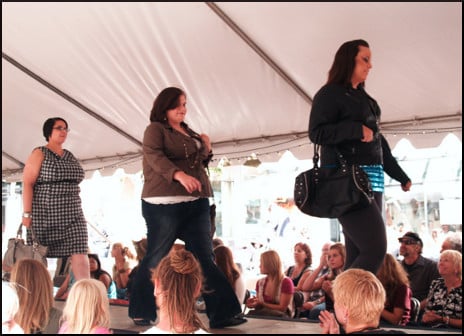 Sports Illustrated publishes an annual swimsuit issue. This is not news. The news is, the people in charge chose a Rubenesque babe as one of the three models for the 2016 covers. The multiple-cover strategy has not previously been used by this magazine, and one might wonder whether there was a hidden corporate reason.
A potential customer might leave this issue on the shelf because he does not want other men to think he's a chubby-chaser. Or it might be the high-minded principle that prompts his refusal to buy a magazine with a picture of a largish woman on the front.
He might hold the honest conviction that overweight should not be encouraged, any more than cigarette-smoking or glue-sniffing should be encouraged. A model doing either of those things will not be found on the Sports Illustrated cover.
But when the customer is offered additional choices — Ronda Rousey or Hailey Clauson — no one has a reason to boycott. The swimsuit fans are just consumers, expressing their preferences by voting with their wallets. No one can accuse the editorial staff of trying to cram a fat girl down anyone's throat.
Is that a mean thing to say? Out there in the world, the talk around this subject gets very raw, very fast. It is the reality a plus-size model has to face.
The quandary
Promoting plus-size as sexy; and promoting the overweight condition and even the obese state, in and of themselves — are they the same thing? Dr. Pretlow says:
On the one hand, it offends overweight individuals to be excluded from such media coverage, etc., which may result in reactive comfort eating and worsening of the problem. On the other hand, does this actually promote a health problem? It's tricky to come up with a compromise, but the direction that things seem to be heading is alarming.
No decent person wants to be the bully who makes an overweight woman feel ugly and "less-than." No one wants to destroy a young girl's dream. But that could have happened to Ashley Graham, who at age 17 moved to New York to pursue greatness. There were people who told her to go home and forget it.
Writer Marlow Stern relates a story from earlier in Graham's career:
She'd starred in a commercial for Cacique, Lane Bryant's new line of sexy lingerie for plus-size women. But the ad, depicting the then-size 16 stunner in a 38D bra and panties, was deemed too big and beautiful for TV, and got nixed by ABC. "We've never witnessed this level of content censorship," a rep for the clothier fumed at the time.
To be a plus-size model is no walk in the park, even at the best of times. Readers of Childhood Obesity News will recall how a veteran in the field revealed that photoshoot crews on very classy projects often disrespect plus-size models, who are not even paid as much as the skinny superstars.
Ashley Graham's mom raised her to believe that true beauty, validation, and self worth come from within. In due time, she became the first plus-size model to occupy the legendary swimsuit issue's cover. Last year, a different plus-size lady was inside the pages, and Graham herself appeared in an advertisement for bathing suits that really pushed her career to a new level.
This year's Sports Illustrated special edition is not the only magazine cover in her portfolio. There were five covers in a single year, and she has even been in Vogue. As if that were not enough, Graham also delivered a TEDx Talk.
She proclaims this as the generation of body diversity and the era of body positivity. Her self-description is "curvasexalicious." It upsets her that only 2% of women think of themselves as beautiful, and she says:
We need to work together to redefine the global vision of beauty, and it starts with becoming your own role model.
Your responses and feedback are welcome!

Source: "Meet Ashley Graham, the 'Sports Illustrated' Swimsuit Issue's First 'Plus-Size' Cover Girl," TheDailyBeast.com, 02/17/16
Source: "Plus-Size? More Like My Size," YouTube.com, 05/27/15
Photo credit: churchstreetmarketplace via VisualHunt/CC BY