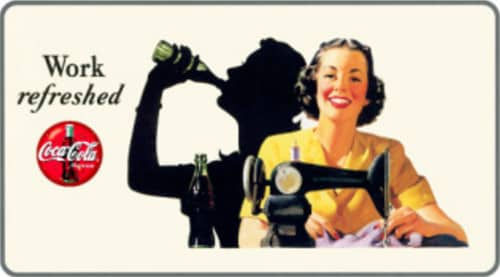 The plan: Check in every once in a while on the doings of the Coca-Cola Company. The reality: Find so many distressing stories, they result in a whole string of posts.
Last fall, there was Coke's blatant attempt to hijack Hispanic Heritage Month, which offended some Spanish-speaking Americans. Even in lower-income neighborhoods, some people resent the assumption that their brand loyalty can be bought with a free temporary tattoo. Overseas, Coca-Cola Amatil takes care of business in Australia, New Zealand, Indonesia, Papua New Guinea, Fiji and Samoa, places that include some of the least-developed economies and most-exploited populations on earth.
Australia has some amazing modern cities, but a lot of the continent is still scruffy outback, where poverty is plentiful, especially among the aboriginal people. Of all the litter strewn about the continent, one-third of it consists of beverage containers.
Given these two conditions, it seems like this plan to encourage the recycling of materials should be a natural winner: Set up "reverse vending machines" where a person could put in a bottle or can and get 10 cents back. Indeed, polling revealed that 80% of the country's consumers liked the idea.
Trouble in paradise
But the "corporate bullies" including Coca-Cola Amatil weren't having any. To them, it looked like a beverage tax, a thing they are desperate to avoid under any guise. To prevent it, they sued the government and threatened a politician with a $4 million attack campaign against her party if it promoted the 10-cent recycling idea. Two Australian states have container deposit legislation, and others have good intentions, but the progress is very slow and constantly balked by the beverage industry.
Coca-Cola Amatil has promised to offer better products in remote and destitute Australian communities, including drinks with fewer calories and smaller containers. Here is an official statement on the subject:
The challenges facing remote Indigenous communities are both complex and multifactorial. As a major beverage provider Coca-Cola Amatil has the potential to contribute to improved outcomes by working with the community to identify, develop and implement effective and sustainable solutions.
That paragraph is reminiscent of the kits of magnetized words that are sold to compose fun poems on refrigerator doors, only this is a random collection of corporate-speak terms that, no matter what order they are rearranged into, still are unable hold meaning.
A current business article states that Coca-Cola Amatil "failed to respond to a consumer shift away from soft drinks" and lost a bundle, but then invested in massive advertising and promotion and started to do better again. Still, most of the 4.8% increase in profit was due to the coffee and alcoholic beverages divisions. Another website reported the profit increase as 45%, which would be grotesque if accurate, but is probably the result of a proofreading failure.
Your responses and feedback are welcome!

Source: "Coca-Cola on Hispanic Heritage Month: #OrgullosoDeSer Campaign Celebrates Family, Culture…," Latinone.com, 09/03/15
Source: "Beverage giants lobby against NSW container deposit scheme," SMH.com, 11/09/14
Source: "Warwick Thornton on his images of Indigenous children in 'fast-food suicide vests'," TheGuardian.com, 07/22/15
Source: "Coca-Cola Amatil returns to growth as net profit rises 4.8pc," SMH.com, 02/17/16
Photo credit: Coca Cola Museum via VisualHunt.com/CC BY