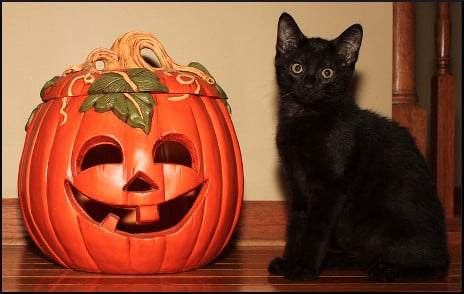 It may be a bit late to make any significant changes in a family's Halloween traditions this year, but it's never to early to start planning for next year. Scoffers think, why make such a big deal out of it? Here is why, according to Emily Schwartz Greco in the San Diego Free Press:
Americans down about 4 percent of their annual candy intake on Halloween—more than 14 times as much as on a typical day.
Evie Poisley reports hat the average trick-or-treat haul encompasses 4,800 calories, distributed among a cup and a half of fat and three cups of sugar. Ouch!
But still, some people don't understand what all the fuss is about. They figure, just eat the candy, then go back to observing a reasonable diet, and get on with the more important matters of life. Many people don't understand the traumatic potential of this holiday. Letting oneself off the leash to enjoy Halloween, down to the last sugary calorie, can be an epic, gateway mistake.
Going nuts at Halloween is too often the kickoff to an entire season of overindulgence and regret. An underlying psychological kink takes over, giving sneaky permission to pig out on Thanksgiving, Christmas, New Year, and whatever other winter festivals we customarily enjoy. Somehow, in our twisted food-addicted minds, it becomes okay to forget about everything, because the beginning of a new year is coming up, and we can always turn over a new leaf and start fresh on January 1.
As we know, that usually turns out to be the worst kind of self-delusion. The "end-of-year blowout orgy followed by repentance and shamefaced attempts to repair the damage" model of thinking is not a good paradigm to indoctrinate children into. By downplaying Halloween, the first in the chain, there is a chance to recast the model. An early start is very helpful. The younger the child, the better a parent's chance to steer events in a better direction.
Alternative Activities and Treats for Halloween
Around this time of year, many columnists compile lists of hints for a saner Halloween.
An Associated Press article called "10 ways to help your kids avoid candy overload" delivers what its title promises. LiveScience.com offers five alternatives to candy that will be considered so acceptable, the trick-or-treaters will not be tempted to retaliate by vandalizing your property.
At elementary schools where home-made holiday treats are still allowed, parents compete to show up with the coolest health-promoting creations. Interested grownups can find instructions for making miniature pumpkins from Mandarin oranges and celery sticks, or carving faces into miniature wax-coated cheeses. Other possibilities are apple nachos and banana ghosts. OsageCountyOnline.com has this to say:
This Halloween, decide that you are going to treat your trick-or-treaters to pencils, gum, small bags of pretzels, stickers, erasers, fun novelty teeth, rings, a bag of unpopped microwave popcorn low in salt and fat, or any other healthy gifts or treats. Or give them a small bag of homemade slime!
This suggestion is followed by two slime recipes, and a warning that neither version is edible. All around the country, forward-thinking dentists have adopted the idea of buying Halloween candy from kids. They have been known to pay $1 per pound for up to five pounds, and the sweets may be sent to members of the armed forces overseas. A community might organize an event like Book-Or-Treat, in which kids turn up at the United Way office after Halloween to trade "any amount of candy" for a new book.
Meanwhile, here is something to think about. Holly Harris, a nutrition researcher at Australia's Queensland University of Technology, writes:
Even though they are not hungry, children as young as three will find high-energy treats too tempting to refuse, new research has confirmed. In a study of three and four year olds, 100 per cent of children opted for a sweet or savory snack despite eating a filling healthy lunch only 15 minutes prior.
Harris believes that everyone is born with the ability to regulate his or her own intake of food. But as we gain experience, and realize how good food can be and how much of it is around, the feedback loop becomes damaged. The signals that are supposed to mean "I'm full" or "I've had enough" don't come through. The mechanism for self-control is inoperable. Therapists can help people relearn how to recognize and use the body's built-in capabilities.
In light of the alarming increase of obese babies, we seem to be losing our ability to self-regulate at an ever-younger age. Around Halloween, it is helpful to keep this in mind.
Your responses and feedback are welcome!

Source: "Paying for Cheap Chocolate: Upgrading Halloween Treats Might Take a Bite
Out of Child Labor," SanDiegoFreePress.org, 10/23/14
Source: "Scary part of Halloween is sugar, calories in trick-or-treat bag," MedicalXpress.com, 10/22/14
Source: "Halloween tips: 6 easy ways to have a healthy holiday," amNY.com, 10/28/14
Source: "10 ways to help your kids avoid candy overload," mysuncoast.com, 10/06/14
Source: "5 Ways to Skip Halloween Candy — Without Getting Your House Egged." LiveScience.com, 10/28/14
Source: "Halloween treats to slay the sugar monster," The Courier-Journal. 10/06/15
Source: "Food for Thought: Give trick-or-treaters slime instead of unhealthy treats," OsageCountyOnline.com, 10/21/15
Source: "Too much candy? Trade sweets for books," pal-item.com, 11/03/2014
Source: "Hungry or not, kids will eat treats." ScienceDaily.com, 10/21/14
Image by Bill & Vicki T