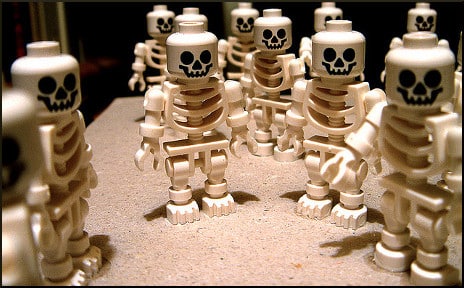 For anyone who hasn't had enough Halloween lore in our recent compendia of past Halloween posts, there is plenty more where that came from. At this time of year the blogosphere, the zeitgeist, and the cultural milieu all seem to focus intensely on Halloween, and they don't all think the same way. In regard to this holiday, America is very ambivalent.
Although Melissa Willets lets her kids enjoy Halloween, and shows us a baby dressed as a pea pod, her general attitude is jaundiced. She says:
Kids do what they do pretty much every other day of the year, and we are supposed to get all excited about it.
They dress up.
They eat candy.
Then they beg for more.
Then they stay up way too late, because they're all sugared up.
Bronwen McCormick writes as a mother whose child "would never turn down a sweet treat." For this reason she is in favor of schools making rules to abolish gratuitous junk food. Here is the beauty part: McCormick's fond memory of her kindergarten Pilgrim costume, with the big metal buckles (probably tinfoil-covered cardboard) on the shoes.
This anecdotal evidence vindicates the claim of a study where kids reported how they valued the dressing-up aspect of Halloween more than the sugar. But even better than the costumes, the participants liked the trick-or-treating process, the traipsing around from place to place—maybe even after dark—and the repeated surprises as treats are tossed into bags.
Emily Schwartz Greco reminded San Diego Free Press readers of something worse than finding out there is no Santa—which is learning where chocolate comes from. It's not exactly what you'd call a fair trade commodity, considering that cocoa growers only get 6% of what the end-use consumer pays. Worse, thousands of children younger than 14 must "slice open cocoa pods with machetes when they should be learning or playing." It is, apparently, a situation close to slave labor.
There are American children high-principled enough to give up chocolate, once they have grasped the meaning of its origin story. Unfortunately, plenty of other seductive sweet treats are available.
Some people love to catch public figures in self-contradiction. Last October's White House celebrations featured several varieties of candy, all shared with local schoolkids. After years of First Lady Michelle Obama's anti-obesity activism, this distribution of sweets prompted cries of hypocrisy from the administration's critics.
But columnist Bryan Kristopowitz does not quite understand the logic behind giving out healthful snacks. He wonders how that equates with activism against childhood obesity, asking:
How exactly are you "taking a stand" against anything by demanding that people eat "healthy food" on the day that you're supposed to, you know, eat candy? Shouldn't these food Nazi types demand that people hand out and eat candy only on specific days, like Halloween, Christmas, Easter, and then eat healthy the rest of the year? Wouldn't that be a more worthwhile strategy?
Bianca Bujan agrees that indulgence should be practiced on Halloween. She grew up with snacks from the nutritional awareness spectrum, including "ants on a log (peanut butter and raisins on celery), and bananas in milk (sprinkled with brown sugar)." But Halloween was a free pass. She and her friends would sort and gloat over their trick-or-treat bounty, and eat whatever they wanted to, an outcome she describes as magical. At day's end, the rest of the candy was "tucked away." Now Bujan is the mother of three children, and this is the routine at her house:
On Halloween night, my children are allowed to eat an allotted number of candies, and the rest are stored in a hidden spot. Leftovers are given out in small portions for dessert, shared with friends and family, and even used for advent calendars for Christmas.
While some rejoice at finding new ways to reduce candy consumption, others are disgruntled, enough to create such rants as "Halloween killjoys spoil the fun like Scrooge at Christmas." Australian writer Sarrah Le Marquand dislikes the holiday, largely because she sees it as just another crass and pointless American import, but admits:
Bleating about the dangers of cultural imperialism is as misguided as it is pompous, given that those who choose to observe Halloween are motivated by nothing more sinister than a desire to share some goodwill—and perhaps a few lollies—with their neighbors.
In other words, we all have more important things to think about.
Or do we?
Your responses and feedback are welcome!

Source: "Why Halloween is stupid." BabyCenter.com, 10/08/15
Source: "Rainbow Table: Happy, healthy Halloween celebrations."MountainX.com, 10/18/14
Source: "Paying for Cheap Chocolate: Upgrading Halloween Treats Might Take a Bite Out of Child Labor," SanDiegoFreePress.org, 10/23/14
Source: "Michelle Obama, White House Slammed for Handing Out Halloween Candy to
Trick-or-Treaters." TheEpochTimes.com, 11/02/14
Source: "The 411 Douchebag of the Week: Glenn Danzig," 411mania.com, 10/26/15
Source: "Handing out toothbrushes on Halloween is goofy," 24hrs.ca, 10/15/15
Source: "Halloween killjoys spoil the fun like Scrooge at Christmas," DailyTelegraph.com, 11/09/14
Image by d.loop