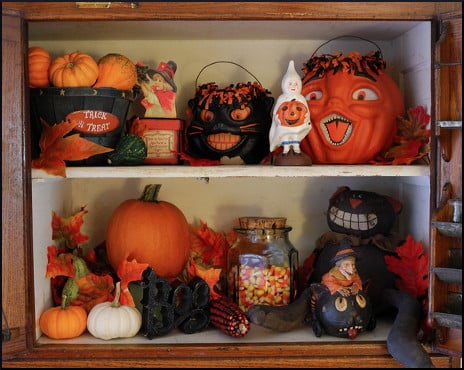 Halloween isn't here yet, so there is still time to consider new strategies. But maybe the super-size sacks of candy have already been bought. That particular type of early preparedness is definitely not a good idea, by the way. As we have mentioned before,  a very real danger exists that someone will start nibbling early, and the supplies will have to be purchased all over again by a parent who has already surreptitiously gained five pounds before October 31 even arrives.
In that same post, we examined a few of the additives that are commonly found in commercially manufactured sweets. Talk about scary! The point is that it's never too early to start absorbing better ideas for next year. Over time, Childhood Obesity News has collected a great many sensible thoughts and innovative notions.
Rather than try to skip awkwardly over the whole messy subject, one excellent strategy is to dive into Halloween with both feet and (to mix metaphors as is appropriate on a Frankenstein-related occasion) with all cylinders firing. A family can enthusiastically adopt the non-candy aspects of the holiday and start weeks ahead to create a memorable celebration by concentrating on costumes and decorating, as outlined in "An Early Start on Halloween."
Can parents get away with this? All indications say yes. As we reported, a poll revealed that 90% of American kids said they would still love Halloween even without the sickening glut of sugary products. In the same post, we suggested different approaches that might be used with children of varying personalities and psychological quirks. We have also, more than once, officially frowned upon the modern custom of dressing up babies as edible treats.
In the midst of a nation replete with overweight and obese kids, we suggested renaming the spooky holiday Enable-oween or Sabotage-oween. But it doesn't have to be that way. Dr. Pretlow discovered a poll taken by dentists in which an astonishing 93% of the responding children said they would happily accept a new video game in lieu of a candy stash.
In the post "Halloween Advance Strategy," we suggested different ways of approaching or handling kids of various ages and in various family configurations. For example, when there is only one child, and that child is very young, those parents are in an enviably advantageous position to create a whole new dynamic. For kids of any age, we have suggested all kinds of alternate trick-or-treat prizes and even more avenues of distraction to de-focus attention from the candy angle.
In case anyone doubts that sugar can be deposed from its accustomed throne, Dr. Pretlow recommends paying attention to a study establishing that kids' two favorite things about Halloween are the trick-or-treat process and the dressing up. Actual consumption of candy came in third. An interesting detail is that kids who have had cavities filled are more likely to agree with the proposition that candy is harmful. Experience is still the best teacher of all!
To round out the collection, a fanciful fiction called "My Halloween, by Curly" illustrates how an alternative holiday can be created by rejecting the old paradigm and inventing a whole new one.
Your responses and feedback are welcome!

Image by Theresa Thompson