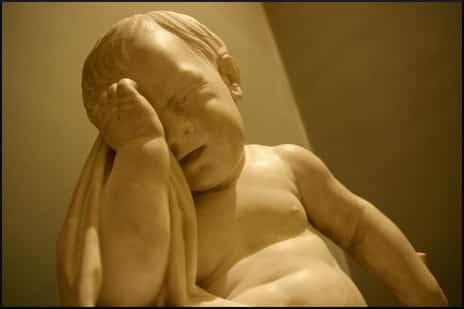 Remember when the state of Georgia wanted to do something about childhood obesity, and put up cautionary billboards as a public service, and got hit by an anti-fat-shaming backlash? Defenders vouched for the images' acceptability by referencing the anti-skin-cancer billboards of Australia, in which warnings to use sunscreen and protective clothing were paired with photos of surgery being done on melanoma victims.
Another argument seems to have been that the grownups, whose images appear on various anti-obesity posters, billboards and other advertisements, do not feel shamed. But opponents countered that the comparison could not be made, because children and adults are different. A typical objection was that depicting fat as a negative quality must necessarily imply hatred for overweight people. Observers with a certain mindset will interpret any mention of obesity as hostility and scorn.
Last year Israel was the fifth worst country in terms of childhood obesity but a billboard campaign in Tel Aviv was accused of cynicism, a lack of compassion, and even criminality. Its creators were labeled as promoters of guilt and shame who make kids hate themselves.
Four months ago, Marion, Ohio got into an uproar when a group called Pioneering Healthy Communities (PHC) put up billboards. The pictures showed stomach flab and the captions were "Marion, we have a problem," and "1 in 3 of OUR 5th graders are OBESE" (and exposed to less-than-meticulous grammar). Such controversies sell newspapers and cause a lucrative clicking of webpages, but do they contribute to ending child obesity?
PHC is certainly trying. The organization is funded by the Robert Wood Johnson Foundation and also, for specific projects, by the Marion Community Foundation. Its origin story, as related by Marion Online News, goes like this:
In February 2011, twelve community leaders spent three days in Washington D.C. where they learned strategies to help Marion have healthier children and adults. This was the beginning of PHC Marion, a community coalition working to promote policy, systems and environmental changes…The MCF has provided funding for Healthy in a Hurry corner store, community gardens, signage for bike and walking routes, physical activity programs at Summer Feeding Sites, and bike safety days.
Your responses and feedback are welcome!

Source: "Does Billboard Ad Campaign Targeting Childhood Obesity Go Too Far?," TheBlaze.com, 01/09/14
Source: "Obesity Awareness Billboard Called 'Fat Shaming'," myfox28columbus.com, 06/25/15
Source: "PHC Marion explains billboard campaign, their mission and work," MarionOnline.com, 06/26/15
Image by ayustety