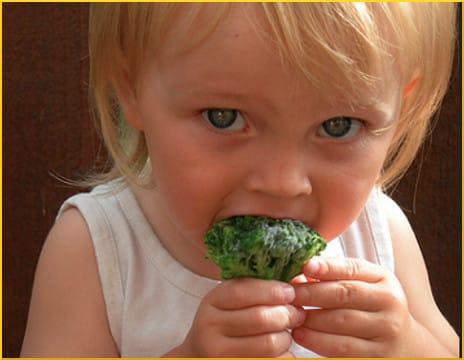 "Kids Eat Right Month" is now over. KERM seems to be the invention of the Academy of Nutrition and Dietetics (AND), recently suspected of being an "astroturf" (as opposed to "grassroots") group whose decisions seem to be unduly influenced by corporations. In fairness, it must be said that the article is tagged, in a tiny-sized font, as an advertorial. These are tips for the conscientious parent:
Shop smart
Cook healthfully
Eat right
Plan wisely
Get moving
Consult an expert
Who but a crank would object to any of that? Even the short elaborations on each point seem innocuous. The sixth tip recommends hiring a registered dietitian nutritionist, or RDN, to set the family's lifestyle on track, but that level of routine self-promotion is only to be expected. So far, this piece of prose gives no indication of an unholy alliance with corporate cupidity. It ends with a heartfelt call to action:
As a parent, you are highly influential, and habits formed early on could potentially last a lifetime. Take steps to steer kids to a path of good health.
Still nothing to complain about. A visit to eatright.org, the AND's website, shows a front-page article called "Teach Your Teen about Food Labels," a video about hydration, and many other features. If anything worrisome is here, it might most logically be found in the snacking area, perhaps in "4 Toddler Snacking Mistakes" by Sally Kuzemchak, MS, RD.
The first suggestion is brilliant and the second contains a strategy that just might work. In "Mistake 4: Grazing All Day" the writer recommends putting snacks on a schedule, because routine is psychologically reassuring. The third suggestion really resonates: separate the definitions of snack food and treat food. Treats are for special occasions, and not for every day. Snacks are bonus eating opportunities, but consist of serious food nonetheless. Kuzemchak writes:
Many snack foods that are marketed to kids are full of refined flour, added sugar and salt. Those foods are OK to eat occasionally, but they don't provide the nutrients your child needs the most (such as calcium, iron and fiber)…
Smarter Strategy: During most snack times, serve the same kinds of foods you serve at mealtime, such as fresh fruits and vegetables, whole grains including whole-wheat tortillas or bread as options, sources of protein such as hard-boiled eggs and hummus, and dairy foods such as yogurt and cheese.
To build on the writer's premise, all these things are much easier if parents do them from the beginning. Starting with the first child is so much more effective, because she or he may not adapt well to change. When an older sibling is used to seeing junk food all over the home, it won't be easy to provide a pristine environment for the second child.
"Empower Your Grade-Schooler's Snacking" seems free of corporate influence in any specific way. However, the suggestions do assume a certain amount of leisure time and disposable income that are not enjoyed by every household. The recommendation is for pre-washed, ready-sliced vegetables, stowed in clear plastic wrap or transparent containers, placed on a refrigerator shelf in the child's sightline. But some people don't even have kitchens. The last suggestion could certainly be seen as benefiting corporations, but not any one in particular:
Buy food in single-serve containers for grab-and-go eating—for example, milk, raisins, juice, fruit cups, pudding and baby carrots.
Those single-serve containers can be pricey.
Your responses and feedback are welcome!

Source: "Tips for 'Kids Eat Right Month' this August," Reporter-Times,com, 07/21/15
Source: "4 Toddler Snacking Mistakes," eatright.org, 08/12/15
Image by Linda Åslund