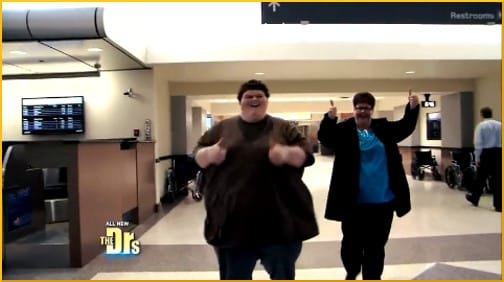 When Justin Williamson was invited to California to be a guest on TV show "The Doctors," the big question was whether he would even be allowed to fly there from Texas. A video clip on his homepage was made on the day of his preliminary visit to the airport to find out. The picture on this page shows the triumph of learning that he could fit on a Southwest Airlines plane.
To the best of anyone's knowledge Justin, at 18 years and 670 pounds, was the nation's most obese teenager. What made him more than that was an extraordinary talent for singing that he had discovered in 8th grade. Flying is kind of a theme here, because it is how he describes the feeling that comes from giving voice to a melody. A theater teacher also encouraged him toward acting, and the desire to develop these two abilities combined into an ambition to perform in Broadway shows. His biography says:
At fifteen, Justin knew something had to change. He had to get healthy to pursue his dreams. Try as he could, though, he just didn't have the resources he needed to do it on his own. Like too many people, Justin found himself believing he was trapped in a body and a life marked by mental, physical and financial challenges.
For instance, to make the trip to California, plane fare was needed not only for Justin but for his mother and sister, who were also invited. For such an occasion, a good set of clothes could not just be bought off the rack. But the family did not have to face these challenges unaided.
When Justin decided "I don't want to die with the music still inside me," an advocate showed up to help share the process of turning the dream into reality. In charge of media outreach is Joe Ostaszewski, whose credentials include losing 147 pounds during the 14th season of the TV show "Biggest Loser" and partnering with the National 4-H Council with the aim of motivating and mobilizing American youth into a state of fitness.
Justin's team organized a crowdfunding effort that quite recently succeeded in meeting its stated goal. Through a link on the Kickstarter page, we can hear Justin's rendition of "Amazing Grace." The next step will be to launch his first single, and the money will go toward coaching, technical support, marketing, and travel. In another short video clip, which is also available via YouTube, Justin can be heard singing part of the National Anthem. There is also a bit where his mom admits, "The pain and the guilt that I feel by enabling him is beyond words," and other brief words from her and Justin's sister.
The family's appearance on "The Doctors" was a step toward engaging an entire country in cheering for this teenager's potential to turn his life around. Justin hopes to become living proof that other young people can reverse the course of morbid obesity and pursue their own ambitions. But this wish is about more than outward, worldly achievement. It's about inner satisfaction and meaning. Justin says, "When I sing at home in my room alone, it feels like church to me, my church. I'd like everyone to know how that feels for themselves."
His goal is to help people see the potential in themselves, and translate that vision into action as they "step up and start working together to create change." He is showing the way. One of the Kickstarter updates announced that he had already gotten below 600 pounds—a weight he had passed in 10th grade. "Justin lost 4 bowling balls," is how they put it. He has many supporters, like Home Depot, which donated equipment for his workouts. Another supporter is Jeff Koz, founder and CEO of hum music, where the recording will be made.
The song Justin sings, "When I Sing," was written by Siedah Garrett, who has won a Grammy award and been nominated twice for the Academy Award for best original song. She feels this song could "give voice to the millions of individuals facing similar challenges." Here are some parting words from Justin Williamson himself:
If I can help others through this experience, that would be amazing. Now I have a process to do what I couldn't do alone. I'm part of a team of people who care about me and who can help me share the experience and the tools with other people who might feel trapped, who have a voice they want to share, but for one reason or another, feel like they can't.
Your responses and feedback are welcome!

Source: "Saving Justin"
Source: "Saving Justin – When I Sing"
Image by The Doctors