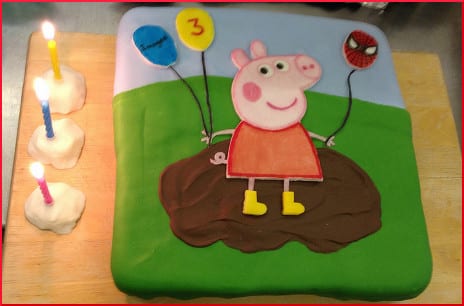 The latest candidates for childhood obesity villains in the media are chubby cartoon characters such as Homer Simpson and Peppa Pig. Homer Simpson is perhaps over-familiar, but childless people might not be cognizant of the 5-year-old little British girl pig, star of a cartoon show whose humor is designed to impress toddlers and preschoolers. The drawing, according to one critic, appears to have been done by a Ford Pinto, which may be the first time the name of that hazardous car has been used in an artistic context.
Some parents hate the show and have expressed a wish for the cast to be eaten by a pack of wolves, while others would like to see the characters turned into bacon and fed to the deserving poor. An online parents' guide gives Peppa Pig a 5-star rating, calling the animated series mild, very cute, simple, adorable, and pleasant, with "strong social lessons about kindness, loyalty, and being thoughtful."
The site offers an option to warn fellow parents on drink, smoking, and drugs, of which there are apparently none in this show, but does not specifically offer a category for food-related objections. There is plenty of obesity-related material, as we learn from the synopses that Christian O'Connell has helpfully provided for some of the hundreds of Peppa Pig episodes. Here are excerpts:
Daddy tries ballet dancing and gets crushed after trying to throw Mummy Pig in the air and catch her, something the two of them did in their youth. Daddy says nothing—NOTHING—about how much weight Mummy Pig has piled on since their youth, taking all the blame for the accident on himself…

The password to get into Peppa's treehouse is "Daddy's Big Tummy." Daddy is upset by these cruel words but is forced to say them in order to be allowed into the treehouse. He doesn't fit in the treehouse because he's too big and so is forced to take the roof off to get in…

They all go for a plate of Granny's biscuits but Granny won't let anyone eat the biscuits unless they say "Daddy's Big Tummy…."
Two years ago, Elissa Griesser noted the anti-Peppa grumblings in the United Kingdom, where the show has been available longer. Some parents take issue with Peppa calling her dad a fat pig. There is the disrespect factor, and an underlying message that it is acceptable to laugh about someone's size. Other parents and critics have objected that the porcine children are fussy about food, and Peppa's parents let her snack before dinner. Human parents don't care for the precedent set by little piggy brother George, who yells "chocolate cake" as his breakfast request. Reportedly, George also cries when faced with the prospect of eating vegetables
An online search for Peppa Pig reveals all the usual merch associated with a popular animated hero—toys, games, videos, underpants, books, pencil cases, bath mitts, bedding, hair clips, posters, musical instruments, pool flotation devices, backpacks, lunch cooler bags, drink bottles, and the exclusive Peppa Pig Tropical Snack Pot, "perfect for storing your favorite nibbles."
At the University of Colorado, Professor Margaret Campbell and a team studied 300 children from three different age groups (ages 8, 12, and 13). They were interested in how kids perceive cartoon characters and what kinds of stereotypes come into play. Prof. Campbell told the press:
We weren't sure whether kids would be aware of bodyweight norms. But surprisingly, they apply typically human standards to cartoon creatures—creatures for which there isn't a real baseline.
This study confirmed that after watching fat cartoon characters, children will favor high-calorie, low-nutrition "indulgent" food, and eat more of it—twice as much, in fact, as when the cartoons feature normal-weight characters. The belief that cartoon characters influence the minds of children is not new. A few years back, criticism moved Kellogg to portray its Tony the Tiger mascot as a slimmer creature.
Extra Bonus Announcement!
Dr. Pretlow was interviewed by Kevin Kniestedt for National Public Radio and Seattle's station KPLU. Topics include the origin story of the Weigh2Rock http://www.weigh2rock.com/ website, the role of comfort eating in the childhood obesity epidemic, and what needs to be done. This might be the most informative 6 minutes and 44 seconds of your day!
Your responses and feedback are welcome!

Source: "_Peppa Pig." CommonSenseMedia.org, undated
Source: "Why Peppa Pig is evil," BigIssue.com, 08/18/14
Source: "Not everyone loves Peppa Pig: when TV shows make kids naughty," SMH.com, 08/23/13
Source: "How Peppa Pig could be making your children fat," Telegraph.co.uk, 07/14/15
Image by Birthday cake