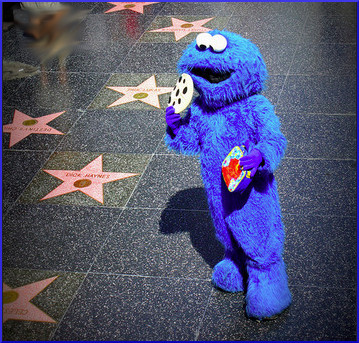 The conjunction of two topics, food and children, is where Cookie Monster lives. Although unnamed, he was present from the first episode of Sesame Street 45 seasons ago, and went on to become famous for devouring anything edible or inedible—but especially cookies. By 2006 the world was changing, and the childhood obesity epidemic was beginning to occupy a large part of the public's headspace. Cookie Monster and other Sesame Street characters began to tell kids about healthful eating habits.
The next year, in a revolutionary move, Cookie Monster appeared on Martha Stewart's TV show to announce the epiphany he had experienced—that "cookies are a sometimes food." In early 2011, Childhood Obesity News mentioned Cookie Monster's appearances on various radio and TV programs to reinforce the new message of moderation. Surprisingly, there was controversy. While many people believed that the fuzzy blue creature set a wonderful example for kids, others voiced anti-Cookie Monster sentiment similar to the disdain felt for a flip-flopping politician.
We also mentioned how a pair of scholars, Daniel MacFarland and Heili Pals, offered a tongue-in-cheek explication of the inner conflict experienced by an individual torn between two psychological imperatives: to moderate his cookie-eating behavior and to eat all the cookies in the world. In another post, we discussed the probably sarcastic demand made by critic Erica Palan who insisted that, along with junk food advertising and birthday cakes, "Cookie Monster must go!"
Continuing Evolution of Cookie Monster
More recently, for The Guardian, Sarah Shemkus related the expansive plan developed by Sesame Workshop to bring the monster's new philosophy even further into the limelight. One major step was to partner with the Produce Marketing Association to create an initiative called Eat Brighter, aimed directly at the reduction of childhood obesity.
One of the first companies to get on board was Sunkist, with a plan to market oranges in Sesame Street-themed packages. Shemkus explains:
Sesame Workshop will license characters such as Big Bird, Elmo and Cookie Monster to fruit and vegetable suppliers free of charge for two years. Such deals would usually be worth millions of dollars to Sesame Workshop…So far, about 25 companies have signed the licensing agreement to use Sesame Street branding on their products.
Bolthouse Farms and East Coast Fresh are two more companies committed to selling fruits and vegetables via Sesame Street branding. Historically, advertising that features cartoon characters and other child-friendly figures has been very successful. With those characters on the packages, junk food flies off the shelves into shopping carts. The theory is that the same strong impetus ought to work well for selling healthful, low-calorie snacks. Optimism is bolstered by studies proving that a child can adapt to a new food after as few as five tries.
There are, of course, counter-arguments. One is pragmatic, based on early studies that seem to indicate that although character-based marketing works well for highly processed, calorie-filled products, it is less effective when applied to healthful foods. Other objections are based on principle, and a reluctance to see the environment become even more thoroughly saturated with advertising. Shemkus quotes Josh Golin, of the Campaign for a Commercial-Free Childhood:
If we tell kids to eat based on what characters tell you to eat, it's not a winning battle in the long run. From the perspective of overall wellbeing, we really need to try and reverse the sway that characters have over kids.
Your responses and feedback are welcome!

Source: "Me eat vegetable: Cookie Monster wants kids to snack healthier," TheGuardian.com, 10/04/14
Image by ღ ℂℏ℟ḯʂ ღ