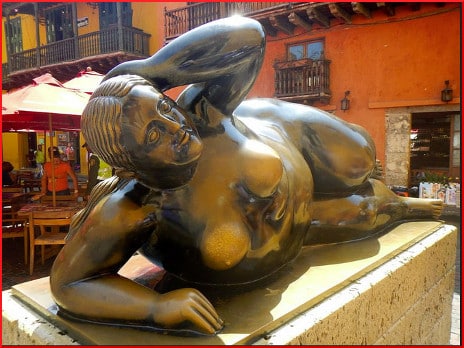 The varieties of fat acceptance range from mild to extreme. In the realm of health and safely, obesity must be acknowledged as something that exists in society, and is likely to continue for some time. Take the crash test dummy, for example, a useful innovation that expresses a necessary form of fat acceptance that can save lives. This simulacrum of a human is not just a figure with limbs and a head, but a calibrated test instrument.
With such a tool, designers can measure what acceleration, impact, and other forces do to a human body, and help to maximize safety for the drivers and other occupants of motor vehicles. Until the relatively recent past, the heaviest available dummy represented a 170-pound human. A few months ago, one company kicked the technology up a notch by adding additional mass to a male figure:
The first of its kind, Humanetics' Obese Crash Test Dummy is based on the measurements of a 273-pound person with a Body Mass Index (BMI) of 35… The preliminary analysis confirms that the obese dummy's seated posture translates further forward on the seat compared to a non-obese occupant and changes the seat belt positioning, thereby creating new challenges for effective restraint countermeasures and knee impact protection.
The Fat Studies Reader, written by Esther Rothblum and Sondra Solovay, suggests that obesity, like homosexuality, is a condition that places its victims in an unsought niche of identity politics. The results may not even be particularly dire, but people become labeled as something that they may not wish to claim as their primary identity. Female comedians and novelists, for instance, do not like to be relegated to a "woman" subcategory, but would rather be recognized only as comedians and novelists.
Since a gay gene was discovered, tolerance of homosexuality has increased. The argument this book seems to make is that the discoveries of various fat genes should inspire the same degree of tolerance and compassion, and the realization that obesity is no more a choice than homosexuality is.
Plus-Size Fashion and Fun
The fashion industry has introduced the Full Figured Entertainer of the Year Award. Only weeks ago, Sports Illustrated magazine made history by including a plus-size model in its annual Swimsuit Issue.
In two Southern California locations, a night spot called Club Bounce plays host to hundreds of people on the weekends, all BBWs (Big Beautiful Women), BHMs (Big Handsome Men) and FAs (Fat Admirers). The performers are big too, like a female quartet called the Glamazons. Plus-size partiers don't skulk around in hipster black, but love to dress in brightly colored clothes. There seems to be a general feeling amongst the obese revelers that they are more real and honest than normal-weight people, and more than one woman has told the press, "I get hit on more now than when I was skinny."
With or without mainstream approval, it looks as if a very high degree of fat acceptance is here to stay.
Your responses and feedback are welcome!

Source: "Crash Test Dummies," Humaneticsatd.com, 2015
Source: "Women at Club Bounce are living large," OCRegister.com, 08/21/13
Image by Erik Cleves Kristensen