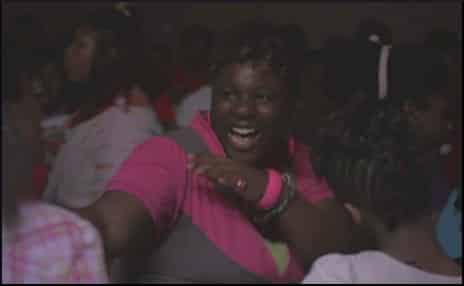 The introductory material about Bite Size can be found in the earlier Childhood Obesity News post about Emily, one of four young people whose stories are told by the film. We also "met" Moy, a gaming enthusiast and novice filmmaker. Today's discussion focuses on KeAnna—though it takes an unexpected turn. KeAnna is 13 when we meet her. Like Davion, the subject of yesterday's post, she lives in Mississippi. Unlike any of the others, KeAnna suffered the loss of her mother when she was two.
Her father is not willing to change how the house runs, just to support his daughter's weight loss efforts. He says, "Even with bad influences, it's still your decision." (True enough, but only after a certain age. Babies get no choice about what they are fed.) KeAnna's way of handling the less-than-supportive home environment is to entertain herself by making cheeky remarks to her relatives, while she righteously eats limited amounts.
She's a funny young woman with personality to spare, which may or may not work in her favor. It seems to be true of both kids and grownups, that someone with a laid-back disposition and a capacious sense of humor is more easily tempted into the byways of "fat acceptance" and the dangerous rationalizations of fatlogic.
At School
Lisa Ross, a counselor who is overweight and diabetic, helps KeAnna and her friends start an after-school group called Si Se Puede, or "Yes we can." The girls make a commitment to give up their biggest problem food – just like the kids from the pilot studies of Dr. Pretlow's W8Loss2Go program. Ms. Ross talks about how the culture is so embedded in food. She tries to get the school district to buy some sports equipment, a futile effort in "the fattest part of the fattest state—also the poorest part."
The girls listen to a guest speaker, an obese woman who started trying to kill herself at age 13. At a campfire ceremony, they write down the hurtful names they have been called, then burn the pieces of paper and promise not to call anyone ugly names. They pledge to respect others and to insist upon respect for themselves.
Nobody in the club loses any weight. (Hmmm… how would they have done with W8Loss2Go?) There is, however, one luminous silver lining—these kids love to dance, and they don't mess around—it is strenuous exercise. A volunteer choreographer helps Si Se Puede put together a dance show, and all the parents and siblings turn out for the high-energy event.
The Return
When the film crew checks back a year later, KeAnna asserts that convenience stores and fast food joints are everywhere, making temptation inescapable. She has made no progress toward escaping obesity and may never be ready to take the necessary steps. But remember the plot twist we promised? Ms. Ross, the counselor, has lost 30 pounds through diet and exercise, and has the diabetes under control. She has gained full realization of the importance of teaching by example. Her back yard, lush with fresh produce, inspires her to say, "This is our own Garden of Eden, and I'm Eve."
The director of Bite Size is Corbin Billings, and Joshua Lipton is director of photography. The rest of the well-deserved credits can be seen at the end of the film, via Vimeo on Demand, and on March 24 by way of iTunes, Google Play, and more. The work touches on many issues that Childhood Obesity News is concerned with, and is a particularly good launching pad for family discussions. Its seemingly straightforward documentary approach reveals hidden currents and nuances. It wraps up with a list of sensible everyday goals.
For more information: Bite Size
BiteSizeMovie on Facebook
Your responses and feedback are welcome!

Source: "Bite Size"
Image by Bite Size