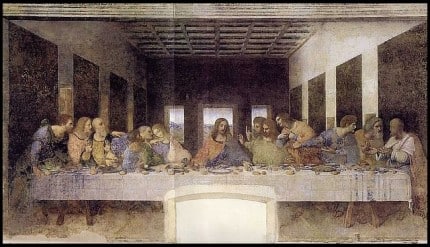 In the Season 6 finale of the immensely popular TV series Mad Men, advertising executive Don Draper talks about his boyhood fondness for Hershey bars. It's a saccharine, stereotypical tale reminiscent of a Norman Rockwell painting, and every inch a lie. Then, in the throes of some sort of emotional meltdown, he unexpectedly turns a routine business meeting into a therapy session by revealing the gritty, sordid truth of his traumatic upbringing, when a chocolate treat "was the only sweet thing in my life."
But Don Draper wasn't the first. Food as comfort is everywhere in one of the oldest texts around, the Bible. It would in fact be easy to construct an entire syllabus around just the food references, like in the Song of Solomon, where it says "comfort me with apples," or in Ecclesiates, where it says "Go, eat your bread with gladness." Eating and emotions, feelings and food.
Sweetness has traditionally been equated with goodness and value. Honey as a simile or metaphor is so familiar that we hardly even notice the significance of it any more. In the Book of Psalms, something that makes a person happy is compared with the most delightfully tasty substance known by humankind at the time. The parallel is so obvious that we completely take it for granted. Here are two examples:
More to be desired are they than gold, yea, than much fine gold: sweeter also than honey and the honeycomb … How sweet are thy words unto my taste! Yea, sweeter than honey to my mouth!
Writer Erin Davis adds a few interesting twists:
Isn't it interesting that the original sin centered around food (remember Eve and the fruit) or that Christ's first miracle was food-and-drink related (water into wine)? … When Christ reminds His followers in Revelation 3:20 of the intimate relationship He desires to have with us, He talks about dining together: "If anyone hears my voice and opens the door, I will come and eat with him, and he with me."
When Moses led the people out of Egypt, they feared they would starve in the desert before reaching the Promised Land. But miraculous food fell from the sky, a white substance that tasted like honey wafers. It was called manna, which also became the word for a "sudden and unexpected source of gratification, pleasure, or gain." The Israelites lived on this heavenly substance for 40 years, surely a sign that the deity took a personal, parental interest in their well-being, and expressed love by providing food. Manna was so important that they were instructed to save a jar of it, as proof for future generations — a jar that is (at least according to legend) inside the Ark of the Covenant.
In other sections of the Bible, Jesus demonstrated love for the crowd by multiplying a little bit of food into enough to feed 5,000 people, and often referred to himself as bread from heaven. And there is of course the sacrament of holy communion.
Our bodies need food, and our psyches need to know that others care for us. The two needs are often conflated by humans who are lonely, confused, hurt, and afraid. There is a direct thread between the Israelites who were fed in the desert, and the lost little boy who became Don Draper, and the obese child who absorbs love in what is often the only way available, through the taste buds.
Your responses and feedback are welcome!

Source: "What Does the Bible Say About Food?," LiesYoungWomenBelieve.com, 09/28/11
Source: "manna." Merriam-Webster.com, undated
Image by Wikimedia Commons