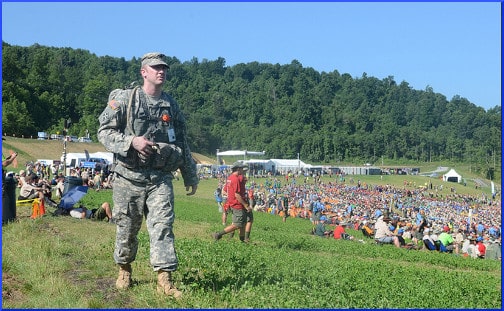 In the summer of 2013, about 30,000 Boy Scouts and leaders attended a 10-day jamboree at the Summit Bechtel Family National Scout Reserve in West Virginia. The jamboree was planned as an "on foot" event (no motor vehicles allowed), and the new venue offered physical challenges that had not been available at previous Jamboree sites. The kids would be hiking a lot, climbing rocks, rappelling up ropes, riding bikes over mountainous terrain, rafting, kayaking, and even skateboarding. Applicants were warned that the experience would be physically grueling, and thus unsuitable for the morbidly obese.
Miranda Leitsinger reported for NBC News on the requirement that all participants be vetted beforehand:
The Boy Scouts used the CDC's body mass index (BMI), a screening tool for obesity… For past jamborees, attendees filled out health forms, received a physical and got a doctor's release, but the BMI was a factor added for this year's event… Those applicants whose BMI was greater than 40.0 were not allowed to participate.
Those with BMIs between 32 and 39.9 could send in their application paperwork, which would be evaluated by Boy Scout staff for physical well-being and potential health risks. Understandably, the leadership was anxious to avoid any "serious health-related event."
The organization's decision makes a certain amount of sense. To be physically strong is, after all, one of the main tenets of scouting. More importantly, everyone was made aware years in advance that applying for attendance at the jamboree would require submission of BMI scores and that admission was not guaranteed. Indeed, this advance warning is said to have inspired many of the Scouts and their adult leaders to concentrate on getting in shape for the event.
Ostensibly Helpful
In a way, knowing that a bar had been set was effective in spurring many individuals to step up their fitness game. Even before it happened, the event could be credited with improving the overall level of physical health among Boy Scouts. We will never know how many kids lost out on the chance to take part in the Jamboree. The organization cannot provide accurate statistics or a rejection rate because most of the morbidly obese Scouts who would be ineligible for the event probably decided not to apply.
Accusations that the rules were unfairly exclusive could be finessed away. Most of the kids and leaders who would have been refused didn't apply, and the organization cannot be blamed for rejecting applications that it never received. But some critics saw the Jamboree policy as institutionalized fat-shaming, even hypocritical and self-righteous fat-shaming dolled up in a disguise of helpfulness and concern. There was, to quote CalorieLab's Robert S. Wieder, a "media uproar."
Part of the Boy Scouts administration's rationale is that health-related incidents would disrupt everyone's experience, with ambulances tearing through the remote environment and helicopters circling in search of landing spots.
But the possibility of an accident or unforeseen medical emergency is not limited to the obese. In the Jamboree setting, with intense physical activity, something bad could happen to the healthiest kid. Surely, for a 10-day event attended by 30,000 people—most of them minors—the organization is already obligated to supply plenty of first-responder firepower. (For instance, as shown by the picture on this page, National Guard medics from the 1st and 150th Armored Reconnaissance Squadron of West Virginia provided backup.)
A common-sense comment appended to Wieder's article by Valerie Keefe says,
Fat kids aren't idiots. If they don't think they can do an event, they won't do the event. There are plenty of opportunities to provide alternate activities that will also test people's limits.
Tomorrow, Childhood Obesity News will explore more aspects of this controversy.
Your responses and feedback are welcome!

Source: "Obese Boy Scouts left out of national gathering," NBCNews.com, July 15, 2013
Source: "The Media Uproar Over the Boy Scout Jamboree Obesity Ban," CalorieLab.com, July 23, 2013
Image by The National Guard