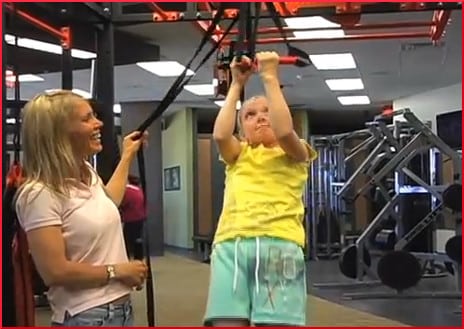 A child is obese who can't lift herself or himself off the ground, even with a jumping assist. So says coach and physical educator Rick Osbourne, who proposes a straightforward strategy that is said to motivate kids to "naturally immunize themselves against obesity for life."
Every school and community center needs relatively cheap equipment — pull-up bars with height-adjustable straps — and adults trained in the very simple utilization of them. In explaining the nutritional and physiological basics, Osbourne says that pull-ups intrinsically reward children for being strong and light. Participating in the Operation Pull Your Own Weight program also helps others. Kids give each other positive reinforcement as they improve, and there is strength in helping others grow strong.
Other benefits accrue, because the good eating and exercise habits promoted here improve performance in a way that is obvious and measurable. As measurable performance milestones are passed, that provides even more incentive to eat clean and stay active. It's all about building confidence and self-esteem, which result from experiencing frequent success that is built on small increments of improvement. Osbourne says:
The systematic motivational basics of Operation Pull Your Own Weight are as follows: All kids want to be strong at everything and weak at nothing. Nothing motivates kids like growing stronger (succeeding) in front of friends. Self-competition enables all kids to win almost all the time. Winning frequently is a highly motivating habit that can be actively cultivated.
At the University of Georgia, researchers are working with mixed reality — a combination of the real world and a virtual environment. They recruited 60 kids, ages 9 to 12, in a study "designed to increase awareness and reduce childhood obesity."
Half of the kids were given the opportunity to interact with a virtual obese dog, and the average child in that group achieved an hour more of exercise per day than the dogless group. Their motivation? Altruism. They did it all for the sake of the poor chubby pup. Kyle Johnsen's story says:
For the group with the virtual pet, if their goal had been met, their dog would give them a congratulatory message and allow them to use controls to cause the dog to perform a trick. For example, if a child set a goal to complete 30 minutes of physical activity and met that goal, then the child would see a real time change in the pet's physical appearance and response rate and be able to teach the pet to sit or roll over.
On the other hand, Dr. Deborah Cohen of the RAND Corporation suggests an innate human propensity that might quash motivation. Her book, A Big Fat Crisis: The Hidden Forces Behind the Obesity Epidemic — and How We Can End It, was reviewed by Susannah Cahalan, in a piece that describes the research behind the problem. Explaining Cohen's argument that the human cognitive system is sadly feeble and can get tired just like a flabby muscle, Calahan writes:
The tug-of-war between gluttony and self-discipline takes place in the brain between the higher cognitive processing systems, responsible for planning and long-term problem solving, and the base, more instinctual, non-cognitive processing system, which might as well have a 'Feed Me' sign.

Unfortunately for mankind, the cognitive processing system, the seat of self-control, is itty-bitty and only functions 'less than 5% of the time,' leaving the non-cognitive system with the reins the rest of the time.
Your responses and feedback are welcome!

Source: "The New: Operation Pull Your Own Weight," YouTube.com, 06/23/12
Source: "Virtual pet leads to increased physical activity for kids, research says," MedicalXpress.com, 05/14/14
Source: "Why gov't should regulate food like tobacco & alcohol," NYPost.com, 12/28/13
Image by Rick Osbourne