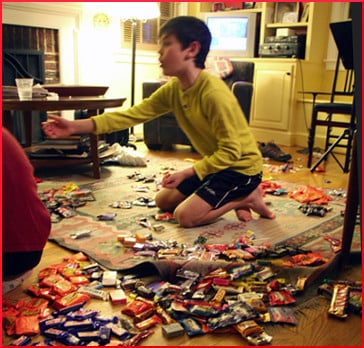 Dr. Pretlow happened upon an interesting American Dental Association study that has positive implications for someday transforming Halloween into a sugar-free festival. The Halloween Consumer Study asked kids what parts of Halloween they like most, with surprising results. Childhood Obesity News has been exploring ways to use the new knowledge in accomplishing two aims: to reduce the total amount of junk consumed by each child, and to provide experiences more valuable than candy. Parents of small children have a natural advantage, because little kids just love face-time with Mom or Dad. More than anything, they crave positive attention in a playful context.
Hopefully, a parent will want to get the trick-or-treat part over with, but not just so everybody can get back to watching TV, and not even just to reduce the total amount of sugary loot the kids bring home. It can be incredibly rewarding to devote the whole evening to doing Halloween. The investment of time is worthwhile because it produces kids who, as they grow, can entertain themselves in ways that are not worrisome.
The surprising results
The study learned that the most popular aspects of the holiday are trick-or-treating and dressing up in costume. "Getting lots of candy" came in third. And therein lies hope for the harried and guilt-ridden parent. According to this information, for the largest number of kids, trick-or-treating is the big fun. What they enjoy is the process, the thrill of the hunt. What if trick-or-treat were combined with the scavenger-hunt format?
There is no such thing as "one size fits all," but we're going to suggest a type of game that could make the holiday more interesting. The role of grownups in this is to set rules or help their kids make up rules, depending on their ages and so forth. Again, the bottom line is, you want to limit the amount of junk food that comes through the door and create enough justification for it so the kids feel it's a worthwhile tradeoff — such as the creation of a splendid game that can become a family and/or neighborhood tradition.
The rules could go a bunch of different ways. Remember, the object here is to give the kids something to do besides think about how much swag they're missing out on. There is no hurry. The mission is to fill up a chunk of time with a creative activity the kids enjoy. With luck, they will be motivated to invent additional alternative and minimal-calorie activities for next year. What more could a parent ask?
Tomorrow's post will be a fictitious account of what a healthful Halloween might look like. Take it as a hint, not a blueprint. Whatever the details of a particular family's circumstances, the object is to keep the focus on "less candy/more fun."
Your responses and feedback are welcome!

Source: "2012 US – Halloween Consumer Study," infosolutionsgroup.com, 2012
Image by woodleywonderworks