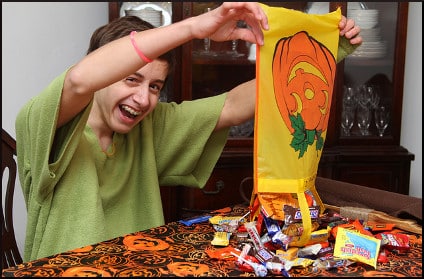 Halloween kicks off eating season, the first of a series of occasions where food is the signifier of love, togetherness, hospitality, generosity, and regret. Anyone who gains from 7 to 10 pounds over the winter holiday season is normal, and a dismaying number of people never manage to shed those pounds before the next seasonal eating extravaganza rolls around.
The only good thing about Halloween is that it doesn't affect everybody. It's just a very special ordeal for kids at risk for overweight or obesity, kids who are already overweight or obese, and their parents. It should be renamed "Enable-oween" or "Sabotage-oween." One researcher determined that the average trick-or-treat haul contains 3 cups of sugar and 4,800 calories.
Halloween is dicey enough for regular kids who just need to be careful. For a child who has been trying to achieve a healthy weight and not making very much progress, it can be a monumental challenge. Along comes October 31, with tons of treats everywhere. A poll conducted by Dr. Pretlow's Weigh2Rock website asked overweight kids to name the worst day of the year. Childhood Obesity News believes that our readers will intuit which autumnal holiday won the doubtful honor.
Healthy-weight kids
Dr. Pretlow calls our attention to the Halloween Consumer Study carried out by the American Dental Association by way of an online survey that questioned more than 500 kids in the 5-to-13 age group. According to this information, 65% named Halloween as best holiday of the year. Here is a real shocker: 93% of the respondents said that instead of candy, they would rather have a new video game. Parents might take a cue from this and negotiate an outright trade of candy stash for an electronic treat instead.
As for the holiday itself, older kids seem more into the trick-or-treat and dress-up aspects. As might be expected, the prospect of bountiful candy is more popular at the younger end of the age spectrum. Also unsurprisingly, the study found attitudinal differences between the dentally experienced, who had had some cavities filled, and those whose teeth had never been drilled. The ones with fillings tend more readily to agree that too much candy is bad for them.
The study also found that 48% of girls worry about cavities caused by too much Halloween candy, while only 38% of the boys share that concern. Of the girls, 73% agree that they eat too much candy around the holiday, as compared to only 63% of boys. In short, girls are more easily impressed by Halloween's downside.
Here is a thought on communication from Samira Kawash, for Time.com:
Halloween candy is a great opportunity to engage your kids in a real, meaningful conversation about food and the way we take care of our bodies. If you are concerned about the effect of eating vast quantities of candy at once or even spread over weeks, share that with your kids. Then stop talking and listen.
Your responses and feedback are welcome!

Source: "Kids Consume 3 Cups of Sugar and 4,800 Calories at Halloween," BrainerdDispatch.com, 10/31/11
Source: "2012 US – Halloween Consumer Study," infosolutionsgroup.com, 2012
Source: "Controlling Your Kids' Candy Stash Is Bad Parenting," Time.com, 10/31/13
Image by Jim, the Photographer