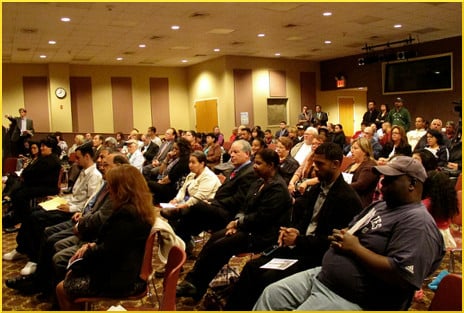 The "Let's Move" campaign is said to aim for a return to the normal childhood obesity rate of 5 percent, as defined by how it was in the late 1970s. In a general sense, efforts to turn back the clock inevitably fail. More specifically, the phraseology suggests that the goal is just to get things back to "as bad as they were before," and that is not a particularly inspiring motive.
For parents who are inspired to move forward, the best advice is to start at home and make the place where your kids live the most stress-free and temptation-free food environment, and set an irreproachable example of clean living. Also, there are ways to be effective in the larger community. During Childhood Obesity Awareness Month, what do parents need to know about activism?
Know how to know
Before the average person invests time or money in a project, there had better be some indication that the effort and risk will bear fruit. How do we know if a program can help our kids, or anybody's kids? How do we decide which kinds of community intervention to support? A good place to start might be Evaluating Obesity Prevention Efforts from the Institute of Medicine of the National Academies. The 462-page manual is subtitled "A Plan for Measuring Progress."
We need access to the data, and a context or framework in which to weigh it. Help can be found in a chapter titled "Improving the Usefulness of Obesity Evaluation Information to Potential Users." The report includes information on how to discern whether any given activity actually promotes health equity, and on "Community Obesity Assessment and Surveillance," which sounds rather ominous.
Much of our current understanding of the childhood obesity crisis comes from highly respected institutions. To pick a random example, publicity about research done at Harvard Medical School and the Harvard School of Public Health said this:
There's no question that junk food, most of it highly processed, and sugar-sweetened beverages are major contributors to the obesity epidemic…. There's no lack of convincing research … demonstrating the solid relationship between such fare and a greater risk of obesity…. One key factor in the rise of childhood obesity involves advertising, primarily via television commercials.
One suggestion made by Harvard experts was that schools need larger budgets for physical education classes. Segments of the political spectrum are against it, though it seems obvious that kids need physical activity on general principles. For the sake of teachers and administrators, giving kids an outlet for their restless energy probably helps to keep classrooms more peaceful.
Kids need space and equipment for exercise — even if obesity reduction is not the targeted issue and even if no direct correlation between exercise and obesity is ever proven. Why? Because exercise is beneficial in 50 or more ways, depending on who is counting. Every one of those ways contributes indirectly to obesity reduction, because they are building blocks for a life that provides satisfactions greater than food.
The point is that parents can have a great amount of influence on school boards. On the local scale, becoming involved with the school system is an accessible route to making a difference. To be even more influential, always remember the power of example, especially when it is up close and personal — like at home, in front of the kids. Mahatma Gandhi said, "Be the change that you wish to see in the world." And Jamie Oliver said, "When parents get angry, anything can happen."
Your responses and feedback are welcome!

Source: "A Plan for Measuring Progress," Institute of Medicine, August 2013
Source: "Kids are what they eat," Harvard.edu, 09/26/12
Image by longislandwins