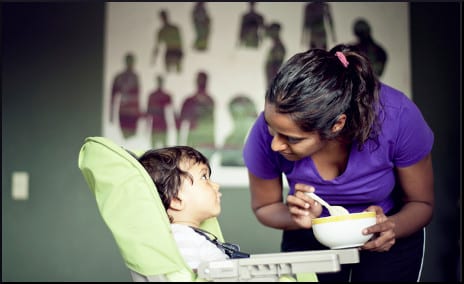 Sometimes a headline accidentally sums up everything that's going on in the world at the moment. Such a headline is "Severe obesity in US children on the rise, multipronged solution needed." That says it all. The main message is, "All classes of obesity in U.S. children have increased over the past 14 years, according to a study published in JAMA Pediatrics."
The writer quoted a doctor who said pretty much the same thing everyone says — we need better policies, more consumer education, and more individual responsibility. It's unfortunate, but these days no matter who says it, "individual responsibility" ends up seeming like a cop-out. It can't help sounding like an Astroturf solution suggested by the food industry to a problem that is not so easily swept under the rug. Where addictive substances are concerned, the idea of individual responsibility is problematic, because the first step in dealing with addiction is for the person to admit powerlessness against the substance.
Childhood Obesity Awareness Month is a good time to look back over the year and think about what has been done. This summer, Dr. Richard Besser, the ABC News Chief Medical Officer, acted as host to a TED-MED panel discussion with five other health-care professionals. The discussion was wide-ranging, and some of it centered on the built environment.
Risa Lavizzo-Mourey, president and CEO of the Robert Wood Johnson Foundation, called upon urban planners and architects for more leadership in translating the concepts of a healthful environment into a living situation most beneficial to children. Nancy Brown, CEO of the American Heart Association, is quoted as saying:
Transportation funding initiatives in some cities have changed to include funding for safe sidewalks, bike lanes, walking paths, and other means for physical activity. This is a great example of cross-sector collaboration.
Don Schwarz, an official from Philadelphia, spoke of the importance of a city's zoning policies. He also emphasized the importance of getting local employers on board with visions of decreased childhood obesity. Schwarz advocates working with the local Chamber of Commerce and reaching out to food retailers. Employers, he suggests, should provide wellness programs that cover dependents.
Class and stress
Elissa Epel, who teaches at the University of California-San Francisco School of Medicine, is concerned about the class discrepancy, which shows up in the form of more stress among the economically disadvantaged.
One characteristic of stress is that self-control does not have much of a chance against it. Stress goads people into disastrous eating habits, and they become overweight or obese, and are stigmatized by society, and that adds more stress, which leads to overeating, and so on ad infinitum. It's one of those vicious cycles. Here is an interesting quotation from Dr. Epel: "It helps to understand that comfort food is a 'drug' — like a cheap form of Prozac."
There was much positive and encouraging talk in a general sense, pertaining to prevention-oriented policies and the collective utilization for the common good of skills found in public and private organizations. Someone emphasized the importance of recognizing incremental change in the individual, and the rewarding of even small signs of progress, such as the loss of 5 to 7 pounds. The importance of putting research into practice was agreed upon, but writer Mike Beauchamp remarked, "Very little is happening so far to create actionable programs that make a difference."
Your responses and feedback are welcome!

Source: "Severe obesity in US children on the rise, multipronged solution needed," FoodNavigator-USA.com, 04/24/14
Source: "TED-MED and Dr. Richard Besser Host a Candid Chat," DietsInReview.com, 07/22/14
Image by Philippe Put