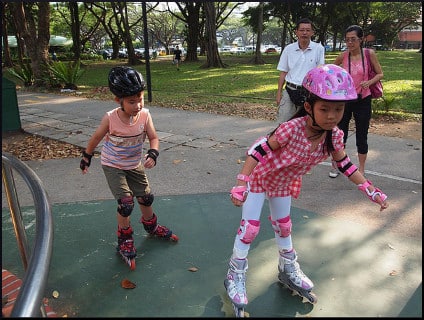 Stacy-Ann Gooden, who writes for BabyCenter.com, told her readers about an Australian study, published in the journal PLOS ONE, indicating that overprotective mothers are "associated with a 13 percent increase in the odds of children being overweight or obese." Gooden and her husband don't let their child loose for free-range outside play. They doubt that she will ever spend an entire night at a sleepover, though they may drop her off and pick her up before bedtime. On the question at hand, however, Gooden feels that associating parental caution with obesity is "crazy."
But she does quote people in disagreement, such as Canadian writer Douglas Robb, who believes that parental safety concerns and the time children spend with electronic screens are both major impediments to the sufficient-exercise ideal. He thinks children spend too much time in highly-controlled environments where they have no opportunity for the kind of free play  past generations enjoyed. Also quoted is pediatrician Ramon Resa, who told The Huffington Post,
I have come to the conclusion that we are doing our kids a disservice by being hyper aware of all the dangers in our society.
Criteria Questioned
Ultimately, it took an online commenter to put his finger on the problem: a poorly-designed experiment, and too little information to really draw a solid conclusion. The criterion for defining overprotectiveness consisted of the parents' answers to only three questions. As with any study that depends on self-reporting, results may vary. "Jules" concedes that overprotectiveness might make a child prone to developing psychological issues that could show up as obesity. But the direct link, in his view, is very weak, at least if based on this one study.
The study took place over four years and, interestingly, found the correlation between overprotectiveness and obesity increasing with age. Does this mean that older children are more likely to become restless under excessively concerned parenting, and to rebel by letting themselves gain weight? Or does it only mean that the accumulation of extra fat requires some time? Also, Jules says:
The study did not address the mechanism for obesity. That is, it did not look at whether kids with overprotective parents were more or less active, nor did it address dietary factors, or any of the other known causes of obesity.
Most importantly, Jules sees the key finding (and the most counterintuitive one) in a detail that most people seem to have missed. Parental behavior that might be considered hypervigilant was identified in the lower socioeconomic classes. In other words, as he says:
Maternal overprotectiveness is less a feature of the class that we think it is (upper- and middle-class) and more a feature of the lower classes.
Other readers mentioned the very excellent fact that this debate does not have to be an either/or proposition. Parents can most definitely get out there with their kids, in a park or at a health club, and take part in physical activities as a family, watching over and protecting the children to their hearts' content.
Your responses and feedback are welcome!

Source: "Do Overprotective Parents Have Fatter Kids?" BabyCenter.com, July 19, 2014.
Image by Walter Lim.