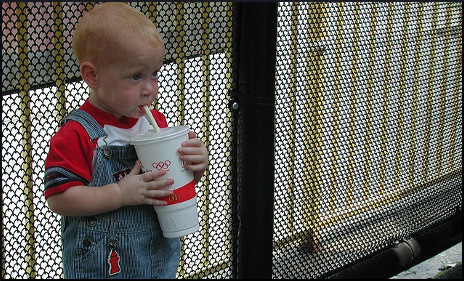 According to a University of Virginia study, children who drink sugar-sweetened beverages "daily" rather than "often" are more likely to have a problem with obesity, and this applies even to five-year-olds. The study looked at 9,600 children, all born in 2001. Their parents were interviewed when the kids were two years old, and four, and again at five. Each time, both the children and their mothers were weighed.
The kids who were given at least one sugar-sweetened beverage (SSB) per day were more likely to also be allowed to watch at least two hours of television every day, and they were also more likely to have overweight mothers. Two-year-olds in these families were found to be more likely to gain weight in their earliest years than similar children in families where no soft drinks were served. The author quotes Dr. Y. Claire Wang of Columbia University, who specializes in pediatric obesity and nutrition:
This is really just adding to the evidence we already know that (drinking) sugar-sweetened beverages in childhood is associated with weight gain. It's definitely one of the major, if not the main, driver in childhood obesity.
The article also notes that according to a Harvard study, 180,000 people per year die from obesity caused by large amounts of SSBs. The audience of Industry Leaders Magazine is composed of, as the title would suggest, influential people in such industry sectors as energy, manufacturing, construction, supply chain, hospitality, and food and beverages. It is mildly surprising that such a publication would produce a headline like "Obesity problems in kids relate to consumption of sweetened Drinks," with a last line suggesting that "some huge steps need to be taken," but this actually happened.
In contrast, many other media outlets are on the side of appeasing the beverage industry, suggesting that everybody should just "live and let live." We're in America, were supposed to be free, and sometimes those who wish to shape America's opinions even question the patriotism of anyone who wants to change the situation.
School daze
By the time schools take over as influencers of young minds, other problems arise, like dicey research on hydration sponsored by Gatorade and the company's ethically questionable access to kids through "school outreach" programs. Mike Oliva, writing for newjerseynewsroom.com, cites news about sports drinks published by the British Medical Journal:
Overall, they found that 85 percent of scientific studies cited by manufacturers to support claimed performance-enhancing benefits of their products have an elevated risk of bias (such as research sponsored by the company)….

The researchers also concluded that much of the science behind sports drinks is biased or inconclusive, and that empty calories from sports drinks are major contributors to childhood obesity and tooth decay.
Almost anything can become absurd if taken too far, but consider this: If a deranged person points a gun at her or his own head and threatens to shoot, the authorities will step in, if possible, to prevent this. In the old days, such a self-destructive person might have been committed to a mental hospital. People attempting suicide have been charged as criminals. Even elderly people in constant pain are not allowed by law to end their own lives.
Yet millions of people are committing slow suicide by eating and drinking themselves to death. Others, if we want to take the health arguments to extreme lengths, are slowly killing their children by allowing them to eat and drink things that are not good for them, in amounts that are definitely harmful. What can be done about this, consistent with freedom and other treasured American and humanitarian values?
Your responses and feedback are welcome!

Source: "Obesity problems in kids relate to consumption of sweetened Drinks," IndustryLeadersMagazine.com, 08/05/13
Source: "Study: Sports drinks industry full of myths," newjerseynewsroom.com, 07/27/12
Image by Eric Lewis