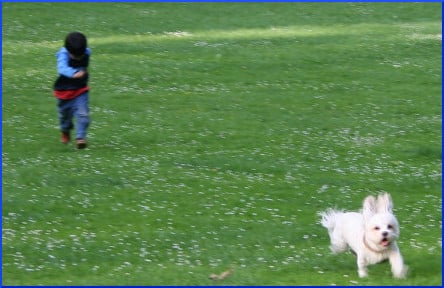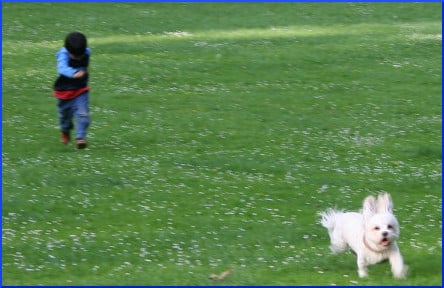 What motivates kids to do the stuff that helps them lose weight and get healthy? That depends on the kid — but some seem to respond to dog-assisted intervention. Not much research has been done yet, but the idea has a lot going for it, such as empirical evidence, which is always a good feature for an idea to have. Yesterday, Childhood Obesity News looked at the wider horizons of what is called "green care," a therapeutic movement with a lot of promise.
Last year, scholars from Germany's Freiburg University published the results of a study that scrutinized a precisely targeted realm of behavior: "the effect of a therapy dog on exercise performance in children with obesity." The comparison wasn't made between kids playing with dogs versus kids playing alone. No, just to keep things fair, the 12 subjects were divided into kid + dog pairings, and kid + kid pairings, then switched around so that every kid would have a chance with both another child and a canine playmate. And guess what? The dogs inspired exercise more than the other kids did. And that's not all:
The results demonstrate that the presence of a therapy dog has the potential to increase physical activity in obese children…. The results of our study indicate the potentially beneficial effect of incorporating dogs into outpatient training for obese children.
Research in Australia, where more than half the children grow up with a family dog, showed that kids with dogs were 49% more likely to fulfill the recommended 420 minutes per week of physical activity. That team also looked at correlation with screen use and weight status, and found that dog ownership was not associated with either.
So one might presume that while dog-owning children are not necessarily slimmer, it's likely they would be even heavier if not for the exercise associated with the dog. Of course, as in any psychologically oriented research, participants were asked to rate their own experiences. (Childhood Obesity News has considered some of the ramifications of self-reporting, which does not always reflect what seems to be objectively apparent.)
Between the two groups — the kids who were paired with other kids for exercise and the kids who were paired with animal companions — their self-reported feelings of well-being and satisfaction (or even of motivation) were not markedly different from each other, even though the animal-assisted kids engaged in more physical activity. The research team drew this conclusion:
Therefore, it stands to reason that a dog could trigger implicit motives which enhance motivation for activity…. [I]mplicit motives cannot be measured via self-reports but indirectly via non-declarative measures employing performance criteria…. The higher implicit motives could be measured indirectly via a better performance in the presence of a dog. However, no effects on self-report measures are to be expected.
Next time, Childhood Obesity News will look more into the "why" of this.
Your responses and feedback are welcome!

Source: "Dogs motivate obese children for physical activity," NIH.gov, 10/29/13
Source: "Understanding the relationship between dog ownership and children's physical activity and sedentary behaviour," NIH.gov, 10/08/13
Image by Philippe Teuwen