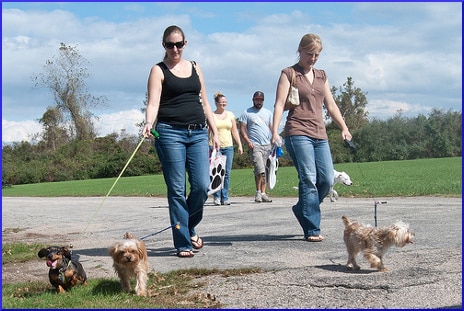 The use of companion animals is only one aspect of green care, also known as social farming. Either term is inclusive and covers not only animal-assisted therapy, but green exercise, ecotherapy, therapeutic horticulture, and wilderness therapy. It's all about the healthful effects of contact with nature. The concept isn't new, but it is making a comeback and is very big in Scandinavia, where Norway alone has 950 care farms.
A report from Bente Berget and Camilla Ihlebæk of the Norwegian University of Life Sciences says that client groups are extremely diverse:
These may include patients with defined psychiatric diagnoses, people with learning disabilities, those with a drug history, disaffected youth or elderly people, as well as persons suffering from the effects of work-related stress or obesity.
Information from Germany's Freiburg University also confirms that Animal Assisted Intervention (AAI) is more effective with children, the elderly, and the developmentally impaired than with healthy adults.
Similar work in Sweden has shown that hanging out with a dog contributes to increased energy and physical activity, and reduces stress, pain, and the symptoms of mental illness. Additional research has shown that interaction with animals has the bodily effect of decreasing cortisol (a chemical related to stress) and increasing dopamine and serotonin (chemicals that make people happy).
People and pets
Back in 2006, the PPET Study looked at the effectiveness of joint exercise between an obese human and an obese pet. The subjects of the experiment, all overweight or obese, were divided into human/pet pairs and humans with no pets. Both groups were given dietary and physical activity counseling and were observed for an entire year. The dog-walkers showed a slightly higher increase in physical activity than the no-dogs group, but the important finding might be that people who walked their dogs did not do very much else — the dog-walking constituted two-thirds of their entire physical activity.
In Britain, a study of maternal obesity and dog-walking during pregnancy turned up a couple of interesting hints for possibly more successful interventions in the future. The Avon Longitudinal Study involved more than 11,000 dog-owning mothers of all weight classes. All were advised to have at least three hours of physical activity every week during their pregnancies.
The dog owners were 50% more likely to fulfill this recommendation, even though their activity was only brisk walking. Among all the other possible variables, dog ownership was the only factor positively associated with regular activity.
Disappointment and surprise
But in this study, neither dog ownership nor physical activity matched up with weight status. Most discouragingly, the uptick in activity was found among normal-weight and overweight prospective moms, but not noticeably in obese moms. In other words, although any activity is good for general health, the ones who needed a weight-loss benefit the most were not getting it. The researchers wondered about an association between dog ownership and obesity, but it appeared to be more correlation than causation:
[T]his was due to confounding by sociodemographic factors related to both dog ownership and risk factors for obesity…. [C]ertain family types are more likely to own dogs, and also tend to be overweight or obese prospective mothers, similar to findings for childhood obesity in the same cohort.
Another unexpected fact turned up that had nothing to do with walking a dog, briskly or otherwise. The desired three hours of weekly activity were also more readily achieved by rabbit owners.
Your responses and feedback are welcome!

Source: "Animal-Assisted Interventions; Effects on Human Mental Health — A Theoretical Framework," Intechopen.com, 10/03/11
Source: "Dogs motivate obese children for physical activity," NIH.gov, 10/29/13
Source: "The PPET study: people and pets exercising together," NIH.gov, 10/14/06
Source: "Dog ownership during pregnancy, maternal activity, and obesity: a cross-sectional study," plosone.org, 02/15/12
Image by Clara S.