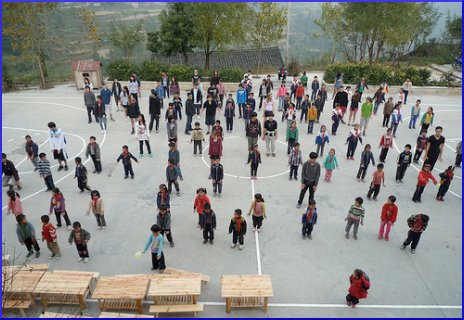 Yesterday, Childhood Obesity News discussed a Chinese study linking obesity with Internet addiction. That country is very conscious of the strong correlation between too much screen time and excessive body weight, and takes very literally the idea of a war on both Internet addiction and, by extension, the obesity it appears to cause. Over the past decade, the government cultivated public hysteria about the societal threat posed by Internet addiction, and established hundreds of boot camps to cure it. No doubt there have been many cases where it was hard to decide whether to send a child to an Internet-addiction camp or to a "fat camp."
In 2010, Christopher S. Stewart wrote about a teenage boy named Deng Senshan whose parents enrolled him at the Qihang Salvation Training Camp, which had already treated more than 5,000 Internet addicts with "a fusion of therapy, physical training, and medication." On the first night, the staff had Deng Senshan out running laps in the dark and, according to reports, he gave them some attitude. An instructor struck him repeatedly with heavy objects, and he died a few hours later without even making it through the first 24 hours of Salvation Camp.
Obesity
Just a few months after the publication of Stewart's article, the Indo Asian News Service featured a piece about how China dealt with childhood obesity. In Beijing, kids as young as 9 were spending time in centrally located gyms filled with exercise machines. In the outlying areas, there were already "fat camps" that charged parents close to $1,500 for a month's residency during which their children would be fed low-calorie meals and forced into at least four hours of physical activity per day. While the curriculum included occasional hiking and some dance classes, the exercise seemed to consist mostly of jogging and treadmill walking. Here is an excerpt:
The children have been put on the grueling exercise [regimen] to help them lose their excess fat before the new school semester begins in September. Life at the camp is isolated from the outside world. Parents are not allowed to visit and the children are prohibited from going out.
Checking out one of these places, the reporter interviewed a 16-year-old girl who described her motivation as wanting to have a slimmer figure so she could "look gorgeous in nice dresses."
As for the fatality at the Qihang center, Stewart noted some of the fallout:
China's Ministry of Health drafted guidelines for boot camps, banning the use of physical punishment, "destructive surgeries," and forced lockups.

More than a dozen people were jailed for Deng Senshan's death, and it would later be reported that the camp founder — who had branded himself as an educational and psychological expert — had never even been to high school, let alone college…. [T]he camp's TV ad was a fraud — those smiling family members were actually paid actors.
That particular Salvation Training Camp was closed, but secrets began to burst out of the closet. Stories emerged of brutality and even more deaths at other branches, and reporters were fired for exposing them. The government made a start at reform by instituting the requirement of a license for anyone to practice as a psychological instructor treating young Internet addicts. By 2012, there were over 1,500 such professionals at work, and China Daily reported from Beijing:
Concerns over Internet addiction have resulted in increasing numbers of Internet treatment centers in the past few years, with violence-incurred tragedies being reported…. Psychological instructors who resort to violence while treating addicts at Internet addiction rehabilitation centers will be disqualified from continuing their job.
Your responses and feedback are welcome!
Source: "Obsessed With the Internet: A Tale From China," Wired.com, 01/13/10
Source: "'Fat camps' to slim obese Chinese children," NDTV.com, 08/01/10
Source: "Web addiction instructors face scrutiny," ChinaDaily.com, 08/26/12
Image by Thomas Galvez
"Morning Exercises, Baibi Mountain Village, Xijiang, Guizhou Province, China"