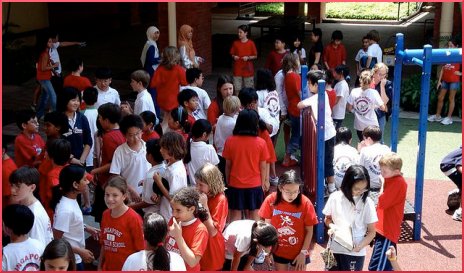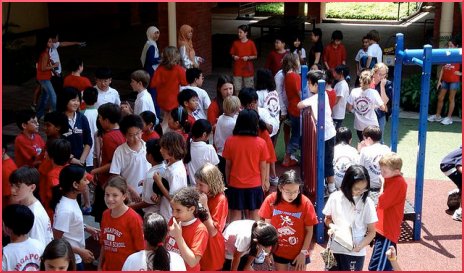 Yesterday, Childhood Obesity News discussed the Trim and Fit program that had been in place in Singapore schools since 1992, in which overweight children were required to do extra physical education activities and have their caloric intake monitored while school was in session. The strict program achieved success in lowering the obesity rate, but kids were not happy, and parents were concerned because belonging to the TAF program tended to make children into targets of derision by their classmates. A P.E. coordinator at one school expressed sadness over the frustration of students for whom the diet and exercise regime was not productive.
Surprisingly for a government with such a tight hold on its society, Singapore authorities relented and initiated change. By 2008, the Ministry of Education had ended the 15-year reign of TAF and replaced it with HHF, or Holistic Health Framework,  a new program encompassing not only physical fitness but mental and social well-being as well. A news report at the time said:
The new holistic campaign will focus not only on raising fitness levels but also on mental and social health by promoting a healthy lifestyle, the ministry said. It did not provide details.
This was because, again surprisingly in such a controlled society, schools were allowed to invent and implement their own programs, as long as they stuck with the underlying principle of elevating the level of physical education for all students, without singling out the overweight and obese. One school added an extra four sessions of Mass Physical Education each week, which included "hip-hop dancing, kick-boxing, aerobics and endurance running." The innovations of another school were described thus:
Each term, the school organizes inter-class sports competitions for every level. It also runs an annual Sports Enrichment Programme which features exciting activities such as inline skating and kayaking. More significantly, the school has made efforts to create spaces for the students to play sports after school. For example, it has placed eight table-tennis tables at various spots in the school and strung up volleyball nets at open spaces.
The loosening of strictures and the addition of more attractive activities — and especially the inclusion of everyone rather than singling out the overweight — made the kids happier but did not improve the statistics. In 2010, it was discovered that obesity in Singapore's general population had been increasing by a factor of 0.7% each year, which is uncomfortably close to a whole percent. Of the country's entire population, 36% showed up as either overweight or obese. In the 7- to 16-year-old demographic, about 9.5% of the young people were classified as actually obese, and while that may sound low in comparison to other countries, the Ministry of Education was determined not to let it get worse.
In Singapore, the culture seems to be in general agreement that childhood obesity is all about calories in/calories out. And indeed, just about any government program anywhere can get support for that platform. On the other hand, many professionals believe that the "energy in, energy out" formula is insufficiently nuanced to reflect reality.
Dr. Pretlow, for example, sees old-fashioned addiction as a major problem that needs to be addressed. There may be deep-seated reasons why too many calories go in, and why a particular person is not able to say, "Oh, okay, I just won't eat so much." But governments typically do not have the resources to offer an addiction rehabilitation program to everyone who needs it, and that is only the beginning of the difficulties with such an idea.
However, government can control what is served in school cafeterias. It can keep junk food out (perhaps more effectively elsewhere than in the U.S.) and insist on a certain level of actual nourishment in what is made available for children to eat.
For a government, leaving the emphasis on diet and exercise is probably a wise course. Calorie reduction really doesn't do any harm. Almost everyone eats too much, in terms of sheer volume of food. Rather than fueling us, it clogs us up and introduces a bewildering variety of chemicals into our bodies. When it gets to the point where eating does more damage than good to the average person, a government can hardly be blamed for making efforts to curb overeating, especially in its young citizens.
(to be continued…)
Your responses and feedback are welcome!

Source: "Singapore to Scrap Anti-Obesity Program," WashingtonPost.com, 03/20/07
Source: "HuHF, it's not TAF to get fit," AsiaOne.com, 02/26/08
Source: "Childhood Obesity and Exergames: Assessments and Experiences from Singapore," springer.com, 2013
Image by ssedro