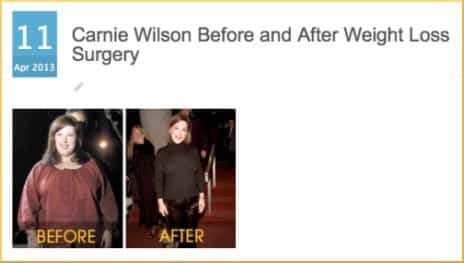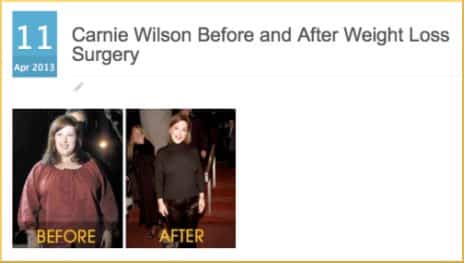 A while back, Childhood Obesity News traced the career of singer and actor Carnie Wilson as a professional obese person — unfortunately, that seems to be the role the media have assigned her. As an aspiring artist, she almost certainly never intended to become the go-to before-and-after example on the Web pages of surgery vendors.
Wilson's dysfunctional relationship with food stemmed from mixed-up family relationships in her early years. But she could sing, and at their height the Wilson Phillips trio had three #1 hit singles. Their debut record album sold 10 million copies. That doesn't sound like much in the age of multi-million-view YouTube videos, but in those days it was quite significant, and besides, fans actually bought and paid for the albums and singles.
When the group broke up in the early 1990s, things went downhill for Wilson. Before long, her weight reached the 300-pound mark and she eventually decided to have gastric bypass surgery. After shedding 150 pounds and undergoing subsequent operations to have loose skin removed, Wilson showed off her new self and gave hope to a nation of overweight women by posing for Playboy.
A new start
Wilson married musician Rob Bonfiglio, and her singing group re-coalesced for another try, so it seemed like things should have been looking up. A child was born, and then another. Eventually, with every glance in the mirror, Carnie Wilson was staring 200 pounds in the face. It wasn't just having-a-baby fat — although she did tell a reporter, "Having children derailed me a bit" — and stories about her typically included such phrases as "struggled to lose the post-pregnancy pounds." Will the children grow up feeling guilty for making their mother fat?
Meanwhile, Wilson was coping with a different set of emotions that perhaps could be seen as a variety of "survivor guilt." In her thinnest Playboy days, she discussed how she felt like a living symbol, responsible for carrying the hopes of a nation of overweight women like an Olympic torch-bearer. Then, when even surgery didn't work and the weight crept back on, she felt guilty for letting down her family, fans, doctors and everyone who had believed in her and cheered her successes.
Wilson's subsequent career opportunities formed a bizarre patchwork of jobs that were all over the map in terms of relevance to healthy lifestyle. For a brief time she spoke on behalf of a company that delivers pre-measured meals to wealthy reducing dieters, but they dismissed her when she founded a home-made cheesecake company.
In 2011, the Wilson/Bonfiglio household suffered some financial setbacks that resulted in a move to a rented house. In the snobbish financial ambiance of Los Angeles, this is regarded as just slightly better than living in a cardboard box and many steps below what is expected of a TV personality — and Wilson certainly is that, having appeared on a variety of reality shows, including programs about haunting, house hunting and cooking. She traded places for a week with former TV star Tracey Gold on Celebrity Wife Swap and for a while even hosted her own talk show with the unimaginative yet informative title Carnie! Then there was Carnie Wilson: Unstapled, a reality show about her weight-loss struggles.
In terms of her music career, probably the best thing to happen to Wilson recently was Wilson Phillips' cameo appearance in the movie Bridesmaids. That led to another opportunity, a reality show called "Still Holding On," which was, not surprisingly, about the trio getting back together.
(to be continued…)
Your responses and feedback are welcome!

Source: "Carnie Wilson Has Weight-Loss Surgery – Again," People.com, 03/21/12
Image by Bariatric Bridge