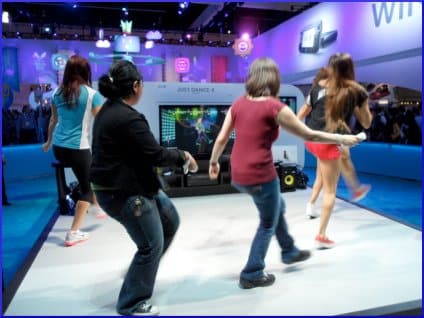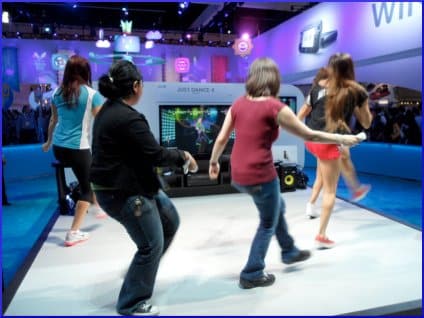 Yesterday, Childhood Obesity News mentioned a study originating from the George Washington University School of Public Health and Health Services in our nation's capital. Among other things:
The study's authors suggest that vigorous video games may have the most potential to help inner-city minority kids, who tend to be at the highest risk for becoming overweight.
For anyone over a certain age, that idea seems deeply counterintuitive. Traditionally, inner-city minority kids have been experts at finding plenty of ways to express their enthusiasm for physical activity, including the invention of games using no commercially manufactured equipment. "Urban" youth used to be in relatively splendid shape, compared to privileged white kids, who had access to more creature comforts. Has the world changed that much?
Next question: even if inner-city minority kids have the most exigent need for vigorous video games, can they afford the electronic equipment? And what about homeless kids, of whom America has an ever-increasing number?
If individuals can't afford these amenities, can institutions take up the slack and provide them? Maybe, some of them. This is where politics come into play and can become ugly. The concept of exergames is not brand new, and neither is the economic objection. Three years ago, a USA Today report by Nancy Hellmich noted that "the consoles and games may be too costly for some schools." She went on to write:
Kids are supposed to do an hour or more of moderate-intensity to vigorous aerobic physical activity each day… But not all children meet that goal for many reasons, including not getting enough time in PE classes or at recess, living in neighborhoods where it's not safe to play outside and spending too much time being sedentary in front of the computer, TV and video games.
Let the games resume
Barbara Chamberlin and other New Mexico State University researchers are interested in the role of active video games in obesity prevention, and they investigated by looking at children in Delaware, Connecticut and Hawaii. Chamberlin, who is also with the Learning Games Lab, recommends creative solutions that cost little to nothing:
Teachers can do all kinds of short activities, from speed-walking breaks to dance breaks using their own music. Students can do these kinds of activities in five minutes, and they don't need to change their shoes or clothes, she says. "We have to give kids lots of different activity options so they figure out, 'Oh, that's the way I like to move.' "
Hellmich's article makes a startling claim:
When the staff at Conlee Elementary School in Las Cruces, N.M., began having students do five minutes of Just Dance, an active video game for Nintendo's Wii, at the start of every school day last year, they noticed a trend: Tardiness went down.
But Bryan Haddock, who teaches kinesiology at California State University, reminds the public that there is no silver bullet that solves everything for everyone. A great workout for one kid might not be the optimal experience for another. People, as always, are different. And he also stresses the idea that even the most active exergame is a supplement to, but not a replacement for, traditional sports and outdoor exercise.
Your responses and feedback are welcome!

Source: "Active Video Games Can Battle Childhood Obesity," Discovery.com, 01/09/13
Source: "Video games help schools get kids moving, exercising more," USAToday.com, 10/11/10
Image by wiiu-spiele.com