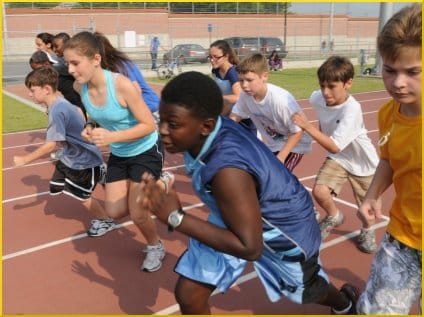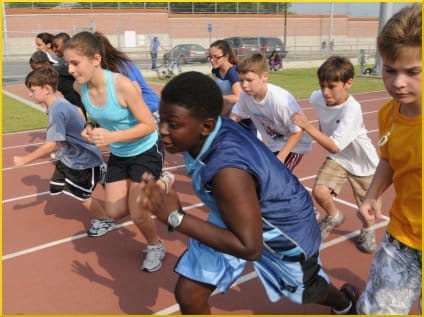 Last time, we ended up by mentioning some exergames that adults like. The combination of video-based games and exercise may seem a bit strange to a public that has become accustomed to thinking of video games as a childhood obesity villain. But Cynthia Carter Ching, a UC Davis professor, is interested in reversing the stereotype of the sedentary gamer. She says:
Recreational games are often blamed for kids' obesity, and some gaming platforms like Wii Fit and X-box Kinnect have tried to make gaming itself more active, but our approach is different. It's exciting to see if, instead, we can leverage games to positively affect behavior that impacts physical fitness even when the gamer is not playing.
Funded by a half-million dollar grant from the National Science Foundation, Ching joins other researchers from the School of Education and Foods for Health Institute, and a professional game designer, in a two-year project to create a game that gets results. The player will start out by entering her or his personal health data and goals, and creating an avatar or onscreen persona, then "strengthen their action-hero characters by logging miles walked and calories burned in the real world."
The most basic course in operant conditioning teaches us that immediate reinforcement is a much more effective reward than delayed reinforcement. If it's February and you want to look great in a bathing suit in June, it's hard to stay on track. Bad enough for adults, but for kids, thinking in terms of future benefit is almost impossible. But Ching and the team believe they might have a workaround for that problem:
For example, a student who records more physical activity on a given day may find that their avatar is faster and stronger the next time they log in to the game. As a result, the student can see short-term positive rewards for their healthy actions — such as not eating a dessert or walking after school — long before they lose weight or change sizes.
In other words, the avatar is directly affected by what the human participant does outside the game, in a way that artificially accelerates cause and effect. Their plan was to try out the game on 11- to 14-year-old California students. A few months later, an interim report appeared.
Science Today, introducing Cynthia Carter Ching as an expert in learning technology, quoted her as saying:
We are partnering currently with an urban Sacramento middle school in their after-school program and we have about 30 kids in that pilot phase of the project. And currently they are wearing what are called Fitbit activity monitors and it has a display readout that says how active you are overall. What we're hoping that our project does is actually give kids a sense of how the kinds of choices that they make in their everyday lives impact their health indicators.
Your responses and feedback are welcome!
Source: "Couch potatoes no more: Video game will fight obesity," UCDavis.edu, 11/20/12
Source: "Video game encourages kids to 'GET-UP'," Ucop.edu, 04/08/13
Image by USAG — Humphreys.