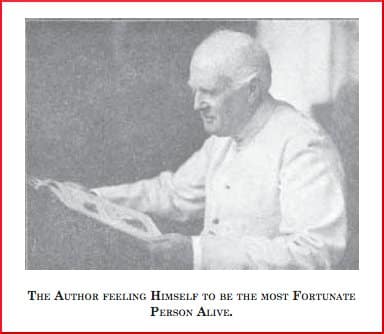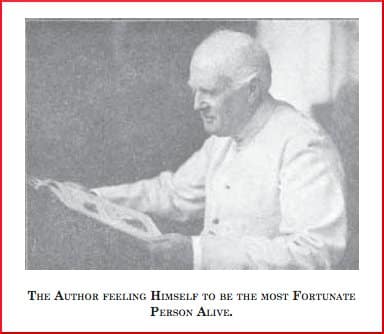 "Mastication or Castigation" was the title of a previous Childhood Obesity News piece introducing Horace Fletcher, and soon, after some remarks about his significance, we will bid him farewell. There was more to his philosophy than just the idea that food should be chewed into a liquid state. He collected and codified precepts from many sources, and he was the first to admit that very little was original with him.
In 1923 he published Fletcherism:What It Is; or How I Became Young at Sixty, to offer himself as an example of the benefits the fletcherizing system. Among other things, he had stopped catching colds, and lost 60 pounds, and his earliest converts actually were doctors. Despite the fact that many people gravitated toward the slimming aspect of Fletcherism, it was not primarily a weight-loss plan. He shockingly wrote:
I cannot advise you appropriately what to eat, when to eat, nor how much to eat; neither can anybody else. I eat anything that my appetite calls for; I eat it only when it does call for it; and I eat until my appetite is satisfied and cries 'Enough!'
In other words, the important thing is how you eat, not what, and today's nutritionists would be appalled by the list of his typical meals (see page 40). Horace Fletcher also said that money, leisure, and easily accessible cafes (the old-time equivalent of fast-food joints) are the "menace of right nutrition." Was he wrong?
From crank to pioneer
In some quarters, Fletcher's reputation has been that of an adorable old crank with more charisma than scientific credentials. But over the years, many disciples have revived his ideas in one form or another. For instance, Dr. Jean Kristeller of Indiana State University's psychology department may or may not self-identify as a Fletcherite, but she's definitely on board with his ideas. Journalist Amy Novotney says:
Kristeller has developed an intervention called Mindfulness-Based Eating Awareness Training (MB-EAT) that blends 'mindful eating' exercises, such as being aware of hunger, chewing food slowly, tuning in to taste and noticing fullness, with mindfulness meditation practice to cultivate more general moment-to-moment awareness of self. Psychologists around the country are using it to help binge and compulsive eaters, diabetics, and people who are mildly and moderately obese to regulate their eating and avoid weight gain… Kristeller advocates no particular diet — and no foods are off-limits.
Fletcher's dream
Horace Fletcher wanted to free people from anger, and from worry, which he alternately defined as fear, and which pretty much amounts to what we now call anxiety. He wanted people to feel good, be healthy and happy, and conduct themselves peacefully in relation to their fellow humans. In a piece titled "Chew your anger and anxiety away," another present-day follower claims that trying the method for only three weeks will make a tranquil and peaceful believer of you. From India, Amar Chandel says:
I, for one, am not concerned about the intricacies of 'how' this happens… Why should I bother how chewing controls my temper as long as I can see the results?
(To be continued…)
Your responses and feedback are welcome!
Source: "Fletcherism:What It Is; or How I Became Young at Sixty," SoilAndHealth.org
Source: "Bite, chew, savor," APA.org, November 2012
Source: "Chew your anger and anxiety away," TribuneIndia.com, 03/09/13
Image by Horace Fletcher.