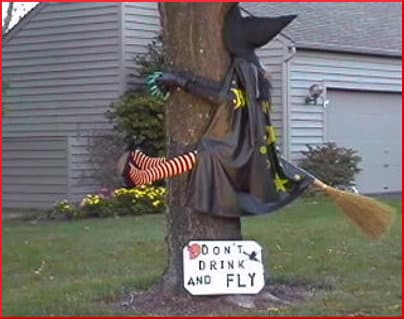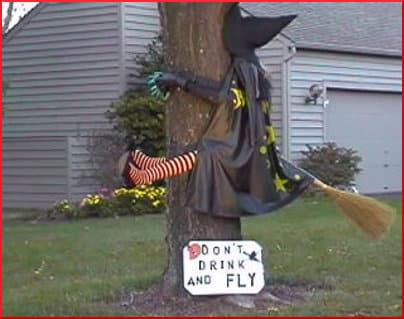 Halloween can be a horror for an overweight kid. It's all about doing the exact thing she or he is not supposed to do — acquire and consume a bunch of sweets. But it's also a lot of fun, and why take away any potential fun by skipping the holiday altogether? In fact, the enjoyment can be multiplied by making a big project out of the non-candy aspects of October 31. It can become an occasion for family togetherness.
Far ahead of time, the exchange of ideas about costuming can begin. A parent and child can spend an evening or several evenings exploring the possibilities of costumes for both. Why not take a chance and create costumes? Devote an afternoon to rummaging around in a second-hand store looking for inspiration.
Maybe a ridiculous hat will suggest an entire outfit. Maybe an old bathmat would make perfect fur for an animal outfit. Sewing and painting are great parent-child togetherness activities. Even if the attempt is totally amateur, so what? It's not like the costume has to last forever. If it holds together for one day, that's all it takes.
And don't stop with transforming yourselves. Creating a costume for a pet can be a rewarding pastime. Google "make a pet costume" and see what turns up. Not everyone is lucky enough to live in a single-family house, but if you do, turning the porch into a Halloween scene can be a very challenging and entertaining creative project.
Retail establishments are happy to sell us the environmental trimmings, but part of the fun is figuring out how to do it on a budget. Can you make an old sheet or dropcloth into a giant spider web? Of course you can. Is there a tree out front? Create a witch who sipped too much hard cider and had an unfortunate accident, as shown on our page.
If you can find a way to make staying at home even more fun than trick-or-treating, great! A child with a theatrical streak might find that staying on a porch, cackling and stirring a cauldron, and handing out sugar-free trinkets sounds better than trekking around the neighborhood.
Many websites, including Money Crashers, offer innovative ideas for decorating indoors and outdoors. Decorate the porch or front hallway to the max, make the lighting effects spooky, dress up, and play mysterious ominous music. Even if you live in a tiny apartment, the weeks leading up to the holiday can be used to make a miniature Halloween roombox, which is kind of like a dollhouse, but it's only one room and can be constructed with free and inexpensive materials.
And don't forget the big orange vegetable traditionally associated with Halloween. Pumpkin carving used to mean hacking away with a paring knife, but in recent years, with the advent of pumpkin-carving kits, it has turned into a real sculptural art form. This activity is only for older children, and parental supervision is always a good move, but the whole idea here is to figure out how to have family-type fun and togetherness.
Or how about writing and illustrating a totally original ghost story? In other words, the whole concept is to think in terms of activities that let the child participate creatively in the holiday to such an extent that candy might become irrelevant.
Here are links to previous Childhood Obesity News posts concerning Halloween:
The Annual Childhood Obesity Challenge
Halloween Proximity Alert: It's a Childhood Obesity Issue
Allergies, Addiction, Childhood Obesity, and Halloween: All Scary
Will Childhood Obesity Kill Halloween?
Your responses and feedback are welcome!
Image by MySpace Graphics and Animations.