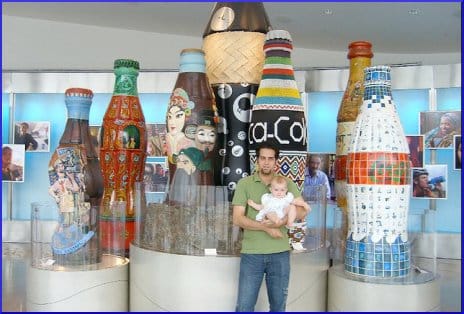 At every possible opportunity, the American Beverage Association will circulate public relations messages that go something like this:
Overweight and obesity are caused by an imbalance between calories consumed from all foods and beverages (total diet) and calories burned (physical activity). Therefore, it is misleading to suggest that beverage consumption is uniquely responsible for weight gain among this group of children, especially at a time in their lives when they would normally gain weight and grow.
And blah, blah, blah. First of all, that's a logical fallacy called a "straw man" argument. Has any person or group ever claimed that sugar-sweetened drinks (SSDs) are uniquely responsible for childhood obesity? Probably not. They're answering a criticism that wasn't made, and acting like they're saying something meaningful. What a lot of people and groups have asserted is not that SSDs are the only cause, but that they are a major cause, or a leading cause.
Still, soda pop is something that parents of young children ought to shun, and if these beverages can't be entirely avoided, they should be minimized, because even a few bottles or cans of them each week can make a huge cumulative difference. The difference was examined by Dr. Mark DeBoer and his team at the University of Virginia, and they found that daily consumption of SSDs (including sports drinks) leads to a higher risk of obesity than occasional use. Writer Carrie Ann lays out the methodology:
The researchers interviewed the parents of a nationally-representative group of 9,600 children when the kids were two, four and five years old regarding their income, education and how often their kids consumed sugary drinks and watched TV. The children were all born in 2001. The weight of the kids and their mothers was recorded at each survey visit.
A metaphorical parallel can be drawn with acetaminophen, where the margin of error between therapeutic dosage and potentially kidney-damaging dosage is narrow. Soda pop, two or three or even four times a week is bad enough, but when it gets to be a daily thing, the risk of obesity increases alarmingly. Also, as might have been expected, the children who imbibe at least one SSD per day were more likely to have overweight mothers, and in the four- and five-year-old groups, the kids averaged at least two hours of television viewing every day.
With children so young, the responsibility lies totally with the parents, whether they are comfortable in admitting it or not. No four-year-old is going to jump into the family car and drive to the grocery store. If SSDs are in the home, only two people bear the responsibility: Mom and Dad. Even older children, whose habits are not so easily controlled, can be asked to keep their darn soda pop out of a younger child's range.
Your responses and feedback are welcome!
Source: "Obesity problems in kids relate to consumption of sweetened Drinks," Industry Leaders Magazine, 08/05/13
Image by Adam Crownoble.