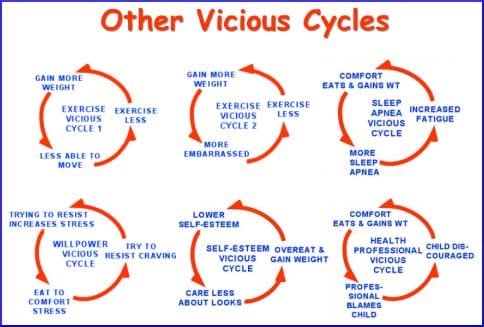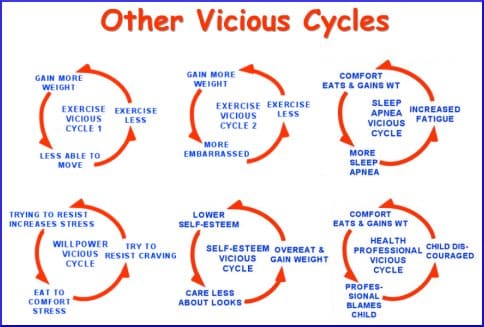 Talk about your problems with your parents, friends, doctor, minister, or a counselor. While excessive weight gain can occur at any age, many parents don't address the issue until the child is older and it has become a much bigger problem. When you wait until it's a problem of larger proportions, it's harder to treat.
This is the advice given to the young by pediatric nutritionist Michelle Daum, MS, RD, and author (with Amy Lemley) of The Can-Do Eating Plan for Overweight Kids and Teens. An enthusiastic reviewer went on record saying that Daum understands kids and the way they like to eat. Some of the answers given in the book are:
Why just cutting sweets won't work, the fat-free fallacy and how it fools you, the exercise connection and how it builds self-esteem, realistic goals and how your child can reach them, and a balanced eating plan that will work because it's full of foods kids love, for kids who love food.
In his book, Overweight: What Kids Say, Dr. Pretlow outlines the steps an overweight kid might take after making the decision to commit to weight loss:
Before starting, the child or teen arranges support from a health professional — a doctor, school counselor or nurse — and from friends and family… He/she tells these people about the plan to lose weight, and that he/she needs their support in order to make it through withdrawal. He/she informs them of the start date. The support persons agree to be available by phone or email. This requirement for support persons may be a problem, given the disconnect between many overweight kids and their caregivers (parents, doctors)…
Via the Weigh2Rock website, obese kids have revealed quite a lot about their parents, including the fact that two-thirds of them are overweight. They would appreciate it a lot if their parents didn't bring home junk food or take the family to dine at fast-food joints where everything is packed with calories. In one poll, Dr. Pretlow asked his audience what would help most to reverse the childhood obesity epidemic, and they said the biggest deciding factor would be for parents to act as healthy role models.
In Dr. Pretlow's presentation, "What's Really Causing Childhood Obesity Epidemic?," Slide 17 is titled "Burden of Secrecy." The question posed to the Weigh2Rock kids was, "If you keep your weight loss attempts or this site a secret, from whom do you keep it a secret?" The answers were:
Parents 80%
Friends 76.8%
Siblings 70.4%
Doctor 52.8%
Half the kids who responded said that they hid their efforts to lose weight from their own doctors, a revelation that is both remarkable and discouraging. Maybe their fears are groundless, and honesty would be welcomed and rewarded. Or maybe they have learned from sad experience that concealment is the best policy.
Slide 54 of the same presentation (also shown on this page) illustrates the various kinds of vicious cycles that can be perpetuated by the struggle to attain normal weight. One of those vicious cycles involves health professionals. To cope with stress and meet emotional needs, the child engages in comfort eating, and gains weight. If the health professional projects blame, the child becomes discouraged and even more emotionally upset, leading to even more comfort eating.
Obviously, when the day comes that doctors in training are better educated about obesity issues, part of that training will have to include a chapter on empathy and non-judgmental attitude.
Your responses and feedback are welcome!
Source: "The Can-Do Eating Plan for Overweight Kids and Teens," Goodreads.com