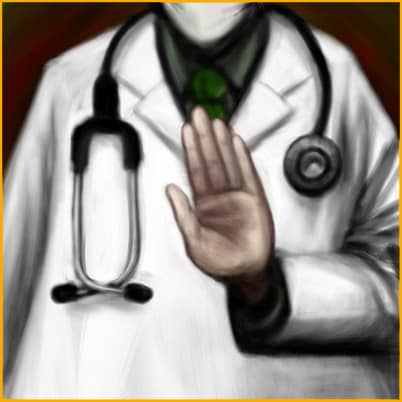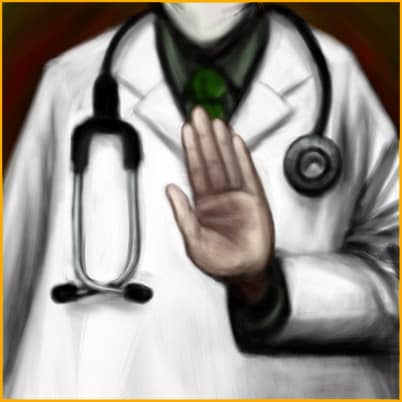 Last time, Childhood Obesity News touched upon how the doctors in this country sometimes feel underqualified or reluctant to treat overweight patients. Now that the AMA has voted to recognize obesity as a disease, it seems like there's a long road ahead of the medical community to treating obesity as such.
So, with more than 145 million adult Americans considered overweight or obese, why are the doctors shying away from providing the amount of weight counseling their patients need? The Penn State College of Medicine researchers have established, via a national survey, that the amount of weight counseling by primary care physicians has decreased overall. They've analyzed data from the National Ambulatory Medical Care Survey about the use of outpatient medical care services for the years 1995-1996; 2007-2008.
The reasons for the decrease were cited by the researchers as following:
Barriers for physicians to offer weight counseling include pessimism that patients can change, time limitations during appointments and thinking that their training for lifestyle counseling is inadequate. […]

Other reasons may be that counseling services are not reimbursed, the researchers said, or that as physicians see rising rates of obesity among their patients, they offer less counseling because of a perceived lack of success.
Jennifer Kraschnewski, assistant professor of medicine and one of the researchers, noted:
Primary care has long been instrumental in significant public health successes such as decreased stroke and heart disease deaths due to the management of high blood pressure and high cholesterol… However, unlike these conditions, primary care providers lack effective tools to address the obesity epidemic.
What some of health care professionals don't lack is an anti-fat bias, it seems. A 2012 study, titled "Implicit and Explicit Anti-Fat Bias among a Large Sample of Medical Doctors by BMI, Race/Ethnicity and Gender" and conducted by Janice A. Sabin, Maddalena Marini, and Brian A. Nosek, has assessed the attitudes of the voluntary participants of an online test, including the MDs. According to the Abstract:
The purpose of this study was to examine implicit and explicit attitudes about weight among a large group of medical doctors (MDs) to determine the pervasiveness of negative attitudes about weight among MDs…
And the study has found that:
All test-takers and the MD sub-sample reported a strong preference for thin people rather than fat people or a strong explicit anti-fat bias. We conclude that strong implicit and explicit anti-fat bias is as pervasive among MDs as it is among the general public.
HealthDay also reported recently that a Johns Hopkins University study has found that "doctors don't have as strong an emotional connection with overweight patients compared to slimmer ones." According to the HealthDay News article:
For their study, the team analyzed recordings of visits that more than 200 patients with high blood pressure made to 39 primary-care doctors. Weight made no difference in the amount of time doctors spent with patients or in the weight counseling they provided, the researchers found.

However, the doctors used more words and phrases that showed concern, reassurance and validation of patients' feelings when they were dealing with people of normal weight, compared to those who were overweight or obese, according to the study, which was published online recently in the journal Obesity.
And that's a shame, because research has also shown that overweight and obese patients are less likely to heed health/lifestyle advice from the doctors that aren't exhibiting empathy, and when they can detect a bias. And that lack of bonding and a sense of dissatisfaction with your medical care provider could lead to adverse health effects.
On the other side of the coin, obese and overweight doctors find themselves exposed to the anti-fat bias from the patients. As Sharon Kirkey reported for Postmedia News in March, yet another obesity study (this one appeared in the International Journal of Obesity) has found that patients are less likely to follow the advice of overweight and obese physicians, and trust them less compared to the slimmer ones.
Kirkey writes:
The study is believed to be the first to show that overweight and obese MDs are vulnerable to the same 'fat phobia' and harmful stereotypes that physicians display toward their overweight patients.
Kirkey quotes the lead author Rebecca Puhl, director of research at the Rudd Centre for Food Policy and Obesity at Yale University: "In fact, the bias has actually worsened over time."
There you have it: The "fat phobia" cuts both ways. Small consolation, but perhaps we're one step closer to understanding obesity and our attitudes toward it.
Source: "Weight counseling decreases despite rise in obesity," Penn State News, 01/08/13
Source: "Patients find obese doctors less credible," Postmedia News, 03/22/13
Source: "Implicit and Explicit Anti-Fat Bias among a Large Sample of Medical Doctors by BMI, Race/Ethnicity and Gender," PLoS ONE, 11/07/12
Source: "Doctors Feel Less Connected to Obese Patients, Study Suggests," HealthDay, 04/26/13
Image by Truthout.org.