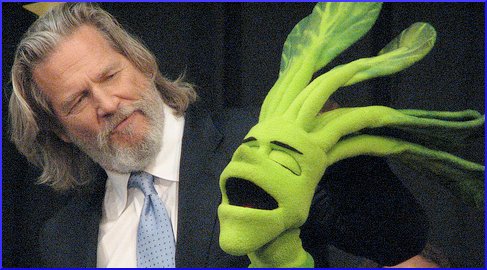 Celebrities take part in many different kinds of events for a lot of different reasons. Up-and-coming players in show biz, like wanna-be movie stars, find it useful to take part in activism to get their names known. Others are so well-known and successful, it's easy to see that their participation in various causes must be sincere. Like Brad Pitt rebuilding New Orleans, they take on projects that are far too extensive and expensive to be mere grandstanding for publicity.
Jeff Bridges in 2011 lent his celebrity cachet to raising awareness of the "No Kid Hungry" campaign, which for ABC News, Michael James described thus:
The goal of the campaign is to educate children and their families who rely on free and reduced-price meals during the school year about the free meal programs available to them when school gets out for the summer.
Bridges assured his audience that "the Dude," the character Bridges played in the cult film The Big Lebowski, loves broccoli and asparagus. James reported:
He also called the battle against childhood obesity and childhood hunger 'the flipside of the same coin, really. I was kind of shocked when I started being involved in this program. […] When I was in schools, we had cafeterias, and in the cafeterias there was refrigerators and stoves and these kinds of things. But that's kind of rare these days,' he said. 'Most of the food is kind of shipped in and the food is not as nutritious as it might be, and kids get used to eating, you know, stuff that's not good for them. And that's the kind of stuff they look for after school and, you know, it ends up making you obese.'
That same year was also notable for the participation of actor Jake Gyllenhaal and celebrity chef Alice Waters as partners in promoting the Edible Schoolyard project:
[…] a programme aimed at teaching children to grow and cook their own food, in order to prevent childhood obesity and other diseases like diabetes.
Gyllenhaal told "The Today Show" that his family grew a lot of their own food, and shared genuine family time when they ate meals at home. He believes that growing food can give children a different, and beneficial, relationship with what they eat.
In Mexico, the importance of soccer is probably equivalent to the American importance of baseball plus football plus basketball. Our southern neighbors are crazy about the game, and the heroes of soccer are idolized and imitated. Unfortunately, Mexico is the world's leader in childhood obesity. The Liga Mx soccer league teamed up with country's national health department and other institutions, and earlier this month, the announcement was made that:
Mexico's first division soccer clubs will be kicking orange-coloured balls around the field starting next weekend as a reminder of the nation's fight against obesity.
The league's spokesperson and president Decio de Maria told reporters:
Soccer has a responsibility because we are the image and example, and we must use that position to send a message to everyone who is watching us. The simple orange colour sends a message that Mexico has a serious problem that affects everyone, and that is obesity.
Your responses and feedback are welcome!
Source: "Jeff Bridges on The Dude's Fight Against Childhood Hunger," ABCNews.com, 06/08/11
Source: "Jake Gyllenhaal Teaches Kids To Garden," Contactmusic.com, 08/23/11
Source: "Mexican soccer launches campaign against obesity," SportBalla.com, 04/03/13
Image by Sodexo USA.