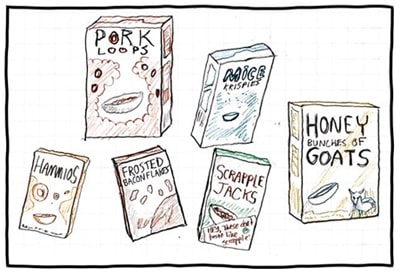 When this article was published by Today, April Fools Day was still a week in the future, so it was meant to be taken seriously. The title, "Junk food might not be addictive, after all," makes an assumption. It hints that belief in the addictiveness of junk food is a well-intentioned but mistaken myth, a quaint old notion that has been around for long enough, and enlightened people should maybe get over it.
But wait! When was that golden age during which everyone agreed that hyperpalatable food can "hook" both children and adults? When was appropriate effort devoted to figuring out how people can eat stuff they like, and not be captured into an enslaving relationship with it? Addiction has many manifestations, and food can be one of them — in what era was that a widely accepted principle? Did we blink and miss it?
Before deciding that awareness of junk food's addictive potential is passé, let's look at the arguments. Linda Thrasybule begins by recapping recent history, during which studies of rodents and humans have revealed secrets of the brain's pleasure centers. Namely, reactions to fat, sugar, and salt look just like the brain's reactions to cocaine, nicotine, and other known addictive substances.
The reporter sought out an assistant professor of food science at North Carolina State University, Gabriel Harris, who said:
We are biologically wired to respond to certain tastes, textures and colors, but that doesn't mean it's an addiction. Abusing drugs doesn't affect brain chemistry in the same way. So making a general statement that foods affect the brain in the same way as drugs would be false.

There are no bad foods, but there are bad diets. Consuming certain foods is fine as long as they are consumed in moderation and not all the time. To enjoy these things occasionally is reasonable. That's kind of balance we need to aim for.
This sentiment was echoed by Joan Salge Blake, spokesperson for the Academy of Nutrition and Dietetics, who told the reporter:
Sweets and treats have been around forever. The problem isn't so much these foods, but the frequency that we allow them to be part of our diet.
Oh really? Dr. Pretlow begs to differ, bringing up several points that these experts have completely overlooked:
Obese individuals experience cravings for junk foods and seek them out.
They can't resist the foods when they're in front of them or offered by someone else.
They can't control how much they eat of the foods.
They eat the foods even though they know that they will regret it later. Thus, obese individuals can't enjoy junk food "in moderation," as the article suggests for the solution. Junk foods typically are "problem foods" for obese individuals.
Your responses and feedback are welcome!
Source: "Junk food might not be addictive, after all," Today.com, 03/26/13
Image by Randall Munroe XKCD.