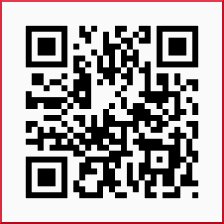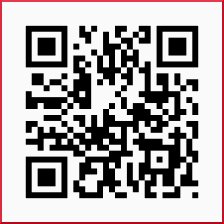 Childhood Obesity News has been considering the proposition that networking via social media can have a bit of a dark side. Electronic shenanigans have given advertisers more opportunities to slide their blandishments into the consciousnesses of children and teens.
One of the newer developments is the quick response code, QR for short, which is like a barcode except that it is not bar-shaped, but square. It's basically a bunch of littler squares, that are either black or white, and its significance is read by an imaging device.
Kunur Patel explains QR codes:
They let marketers make all sorts of media — print, billboards, even packaging — clickable and interactive. When scanned with a special app downloaded to a smartphone, QR codes can call up links, text messages or videos… The appeal to marketers is clear. Implementing the codes is far less expensive than developing a proprietary app. They offer the ability to measure consumer activity and can provide shoppers with information, freeing up salespeople and increasing productivity.
When that was written, only about 5% of the consumers who could be using QR codes were actually using them. If a company aimed for the affluent young male demographic, a QR code steering shoppers to appropriate information might help sell the product. Despite the seemingly limited range, advertisers persisted, believing that the gimmick would catch on.
Justin Amendola writes:
Between June 2011 and June 2012, consumer QR code scanning rose by 400 percent… They're learning to target the customer segments most likely to have smartphones and using information about their age, purchasing habits, and preferred means of communication to create better, more effective marketing campaigns. Similarly, location intelligence software enables businesses to identify prime areas to situate QR codes, so that codes and campaigns are targeting the right audience.
That's comforting, for advertisers anyway. And there is no doubt that some consumers find the technology immensely helpful. The Home Depot chain puts QR codes on plants, so that people can find information, in as much detail as they require, about how to care for their foliage.
Since the QR code can convey so much information to someone who has the right tool, it could do a better job of explaining the ingredients of a food product than a block of teeny-tiny print can do. Are QR codes being used this way? Yes, and have been for quite some time. Even two years ago, you could read items like this:
Scanning the QR code on Tanimura & Antle's lettuce packaging takes you to a website with recipe ideas and gives you a chance to enter a sweepstakes to win $250 each week. Other food manufacturers are using QR codes to provide information on the region the produce or food originated from, expiration dates and other nutritional information.
A fruit grower's representative told a reporter how her company uses QR codes on the displays in retail stores to take customers to Sun Pacific Marketing's website of kiwifruit recipes. But Tom Tjerandsen of the Chilean Fresh Fruit Association told the same reporter:
Social media opportunities are vast, but, in some cases, they aren't high priorities in marketing plans.
Your responses and feedback are welcome!
Source: "Why Marketer Love for QR Codes Is Not Shared by Consumers," AdAge, 01/02/12
Source: "How the QR code boom will affect you," iMediaConnection.com, 03/07/13
Source: "Fun facts and clever uses for QR codes," Social Media in Marketing, 06/01/11
Source: "Social media plays promotional role," The Packer, 09/21/12
Image by Wikipedia.