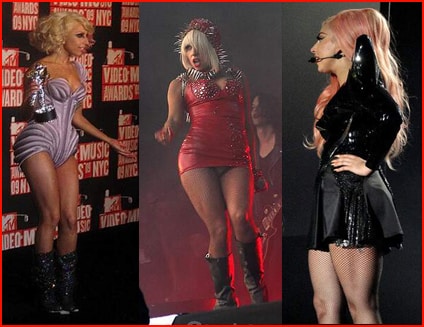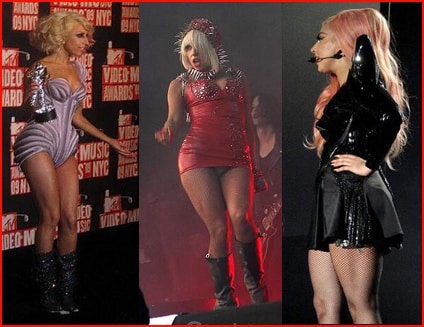 Pop singer Lady Gaga has millions of adoring followers among the tweens and teens of the world. Lately, more mature observers have had cause to puzzle over her message. At an MTV award show, she wore an outfit made of sewn-together slabs of steak, accessorized by meat shoes and a meat handbag (and diamond jewelry).
BBC journalists Denise Winterman and Jon Kelly were inspired to write a piece called, "Five interpretations of Lady Gaga's meat dress." What on earth was the woman trying to say? Was this a publicity stunt? An anti-fashion statement, or a feminist message? A coded statement about aging or obesity?
Some asked:
… [C]ould she actually be making a bold statement about something animal rights campaigners themselves often argue — society's often hypocritical attitude to meat. The same people who are horrified by a raw-meat dress, may be wearing leather shoes which are themselves the product of dead flesh.
The influential artist seemed content to allow anyone the reading they desired to apply, though she did say:
If we don't stand up for our rights soon we're going to have as much rights as the meat on our bones. And I am not a piece of meat.
In other words, the weird outfit could be construed as saying to men disrespectful of women, "You want meat? You got it."
And some months later, when she gained 25 or 30 pounds, Lady Gaga still wore stage outfits that amply exposed her out-of-shape figure, lumpy with cellulite, which photographers excitedly spread all over the Internet, but which could be read as another way of putting across the same idea.
Last fall, when fans and pop culture pundits speculated on the enlarged Lady Gaga, she used her website to explain that since the age of 15 she had battled anorexia and bulimia, and that what she called the Body Revolution was designed to inspire bravery among other victims and compassion in their detractors. She invited fans to send in photos that would celebrate triumph over their insecurities, and wrote:
My mother and I created the BORN THIS WAY FOUNDATION for one reason: 'to inspire bravery.' This profile is an extension of that dream. Be brave and celebrate with us your 'perceived flaws,' as society tells us. May we make our flaws famous, and thus redefine the heinous.
For Jezebel, Dodai Stewart commented on the influx of fan's stories and pictures, and the additional photos of herself that Lady Gaga displayed:
By posting these homemade, raw, here-I-am-with-all-my-flaws (not that we see any) images, she shows that her struggle is the same struggle millions of other men and women have everyday: Learning to love yourself just the way you are, finding and believing you are beautiful when the media is hellbent on making you think you're fat and ugly (and that fat is the same as ugly).
Stewart felt that Gaga deserved neither "weight hate" nor the "sick and cynical" accusations that all this was just a ploy to gain attention. The artist, she maintained, would not be "playing games with something as serious as body image. Especially with a legion of young fans."
A blogger calling herself "the UlTiMaTe LaMeStReAmER!!!" published a response that was typical:
I am PROUD of Lady Gaga for BEING FAT… Lady Gaga is my new ANTI-THINSPIRATION! […] Even if it is becoming a fatty, it is soo artsy and conceptual! I honestly think this is good for the woman's movement because now men will accept fatties.
Jocelyn Vena of MTV opined that the powerful stories that came to light via the Body Revolution 2013 campaign would spread hope, and prove to be cathartic and healing, a step toward ending the misery and isolation of people with eating disorders by "changing our overall media landscape." Vena noted that "experts commend the singer for opening up a dialogue" and quoted Susie Roman, program director at the National Eating Disorders Association:
In terms of the fact that her reach is so huge, it's just a critical thing to have someone who is willing to speak out about really unrealistic standards and that incredible pressure to be thin often at the expense of health.
Your responses and feedback are welcome!
Source: "Five interpretations of Lady Gaga's meat dress," BBC News, 09/14/10
Source: "'Bulimia and Anorexia Since I Was 15': Lady Gaga Responds to 'Fat' Headlines With Half-Naked Pics and a Confession," Jezebel, 09/25/12
Source: "SHOCKING PHOTOS: Lady Gaga is a Fatty McFatFat Fatty!," Hipster Runoff
Source: "Lady Gaga's Body Revolution Sends 'Wonderful Message,' Experts Say," MTV.com, 09/29/12
Images by Nikotransmission, Philip Nelson, and Aflickion.