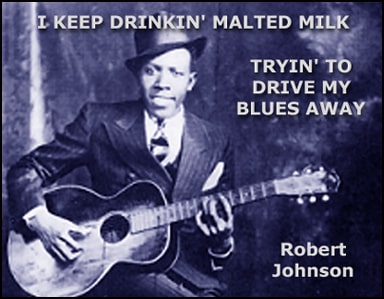 With his 1937 song "Malted Milk," bluesman Robert Johnson confirmed the reality of emotional eating, especially in the Depression era in the United States. Some of the lyrics are:
I keep drinking malted milk, trying to drive my blues away.
Malted milk, malted milk, keep rushin' to my head
And I have a funny, funny feelin', and I'm talkin' all out my head.
Malt is barley that has been sprouted, then dried and ground into powder. It has been suggested that Johnson was referencing not milk, but another kind of malt beverage, like whiskey or beer. But Prohibition was already over, so why put it in code?
Emotional eating was nothing new even then, of course, but had been reported as far back as the Song of Solomon in the Christian Bible. One of the book's most widely quoted phrases is "… comfort me with apples." There it is — comfort eating, plain as can be. Or maybe not. Apples can also be fermented into intoxicating cider, and are mentioned in the same sentence as "flagons," or bottles.
But let's go with the malted milk. Who drinks it? Apparently, a lot of people did, back in Robert Johnson's day. A product called Ovaltine, mixed with milk by the customer at home, was immensely popular. In the 1930s and '40s, the company sponsored the coolest radio serials. Like Coca-Cola, Ovaltine hitched a ride on the popular culture. Like McDonald's, Ovaltine gave away plastic toys as prizes. Even before that, in the 1800s, malted milk was recommended as the era's version of infant formula.
There is a chocolate and malt powder product called Milo, which Wikipedia, though it does not give a source for the "mildly addictive" claim, describes thus:
Milo contains some theobromine, a xanthine alkaloid similar to caffeine which is present in the cocoa used in the product; thus, like chocolate, it can become mildly addictive if consumed in quantities of more than 15 heaped teaspoons per day.
"Malt: What Is It Anyway?" is the question asked and answered by Madeleine Crum in The Huffington Post. She explains:
The grains […] are soaked in water then dried in hot air, a process that allows them to germinate. This is called 'malting.' Malting allows the starches in the grains to change into sugars, such as glucose and fructose… There are two types of malt powder — diastatic and nondiastatic. The former involves the process described above… This type of malt powder can be used when baking bread to ensure that it will rise. Nondiastatic malt powder has no active enzymes, and is commonly used in drinks for flavor.
Bruce Semon, M.D., Ph.D., who is both a child psychiatrist and a doctorate nutritionist, firmly believes that some foods affect the human mind adversely, like barley malt, which contains 20 different chemicals that "put your brain to sleep." Barley malt is in fact one of the worst food additives, because it causes the release of endorphins or pleasure chemicals. (Of course, many people would disagree and say that's what makes it one of the best.) The endorphins make a person tend to not worry or care about overeating.
In a piece titled, "Yeast Causes Food Addiction! Stop It Now!," Dr. Semon writes of malt:
… [I]t is sold as a sugar substitute and is baked into nearly everything, from breads and bagels to cookies and cereal. Every time you eat malt, you risk causing endorphin release, which will cause you to want to eat more, even if you do not want to and certainly do not need to. You become addicted to these chemicals and to the foods which contain them… Malt is found even in many 'health foods', where it can be called grain based sweetener.
Your responses and feedback are welcome!
Source: "Malt: What Is It Anyway?," The Huffington Post, 01/03/13
Source: "Yeast causes Food Addiction! Stop it Now!," NutritionInstitute.com
Image from Wikipedia.