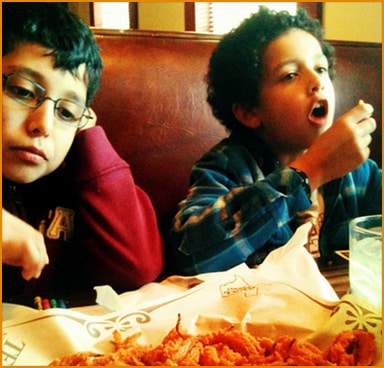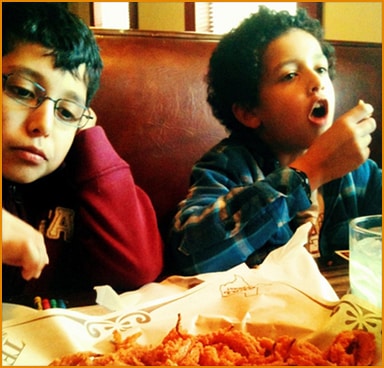 The National Association for the Advancement of Colored People (NAACP) takes an interest in childhood obesity, as it does in any societal problem that affects its members and constituents, and indeed that affects any minority groups. Its webpage says:
Sadly, major disparities exist among the obesity rates of children based on race and poverty; for example 38 percent of Mexican-American children and 34.9 percent of African-American children ages 2 to 19 are overweight or obese, compared with 30.7 percent of White children and 39.5 percent of low-income American Indian and Alaska Native children ages 2 to 5 who are overweight or obese.
This theme recurs in a New York Times article by Sabrina Tavernise, who also notes that obesity shows up disproportionately among the children of the poor, and while there may be some decline in childhood obesity among white kids and kids with more money, there hasn't been much improvement among minority kids. She writes:
Twenty percent of low-income children are obese, compared with about 12 percent of children from more affluent families, according to the C.D.C. Among girls, race is also an important factor. About 25 percent of black girls are obese, compared with 15 percent of white girls.
Tavernise tells about a study done in New York City for a couple of years, looking at children in kindergarten up to 8th grade. Among white kids, obesity went down 12.5%, but the black kids only became 1.9% less obese.
But Philadelphia was just the opposite. There are lots of poor kids and lots of minorities, and a four-year study looked at 120,000 of them. The writer says:
Obesity […] declined by 8 percent among black boys and by 7 percent among Hispanic girls, compared with a 0.8 percent decline for white girls and a 6.8 percent decline for white boys.
In England, a large study called SABRE collected information over a 20-year period, on 5,000 Londoners of European, South Asian, African, and African Caribbean ancestry. When the study started, all were middle-age or older, and none of them had Type 2 diabetes. Journalist Jen Middleton describes the outcome:
The team found that while African, African Caribbeans and Europeans tend to be diagnosed at around the same age, 66-67 years, South Asian men were 5 years younger on average when diabetes was diagnosed, meaning that they are at even greater risk of complications.

The team found that carrying fat around the trunk or middle of the body in mid-life together with increased resistance to the effects of insulin explained why South Asian, African and African Caribbean women are more at risk of developing diabetes than British European women. However, this explained only part of the increased risk in South Asian, African and African Caribbean men, suggesting that other factors that are as yet unknown may also play a part.
In other words, while family history plays a part in any ethnic group, it can't explain the differences here, and nobody really knows yet what is going on. To state it positively, what the study accomplished was to confirm that there are ethnic differences in an individual's risk of developing Type 2 diabetes.
Dr. Helene Wilson of the British Heart Foundation throws an even more hopeful light on it:
This study suggests the higher rate of diabetes — a major risk factor for heart attacks and strokes — in some South Asian and African Caribbean women is due to increased levels of obesity, particularly the build-up of fat around the waist, and higher resistance to insulin, which helps the body process sugar.

This is a very encouraging discovery because it underlines the fact that controlling your weight […] can have a significant protective effect on your health. There's a wealth of existing evidence that keeping the weight off by eating a healthy balanced diet and being physically active will reduce your risk of heart disease and type 2 diabetes, whatever your ethnic group.
Your responses and feedback are welcome!
Source: "NAACP Encourages Multi-Pronged Approach To Tackle Childhood Obesity," NAACP.org
Source: "Obesity in Young Is Seen as Falling in Several Cities," The New York Times, 12/10/12
Source: "Study reveals extent of type 2 diabetes problem in minority populations," EurekAlert!, 09/10/12
Image by Alastairvance (Alastair Vance).