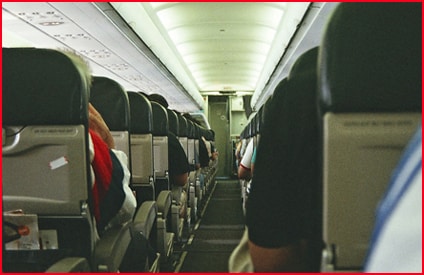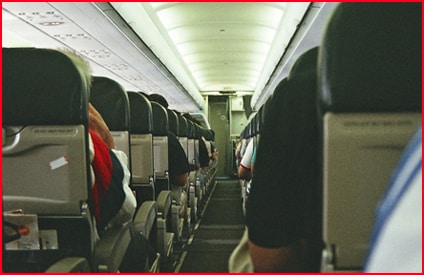 Last month, A. Pawlowski reported for NBC News on the unfortunate death of Vilma Soltesz in Hungary, where she and her husband were visiting relatives. Starting from their home in New York, they had flown overseas via KLM Airlines, which accommodated Mrs. Soltesz's 425-pound weight by having her buy two seats.
For the return trip, a month later, they were also scheduled to fly with KLM, and Mrs. Soltesz was taken into the plane with a Skylift elevator. But once they were embarked, something went wrong with the back of the passenger seat, apparently, and there was no seat belt extender. People have to be strapped in, of course, so that was that. Husband and wife were escorted off the plane.
A spokesperson for the company said that an extender would not have fixed the problem anyway. Pawlowski interviewed the attorney who is now involved, Holly Ostrov Ronai, who said:
The couple spent five hours at the airport and then drove through the night to Prague, where they were told a bigger Delta Air Lines plane could take them home the next day. But that attempt was also unsuccessful because Delta only had a plastic wheelchair that was not able to hold Soltesz's weight.
Mrs. Soltesz is described as "an amputee who suffered from kidney disease and diabetes," and presumably was wheelchair-bound. Apparently the details vary according to airline, airport, and because of other factors, but at some point in the boarding process the patient has to be transferred into a wheelchair owned by the airline. The person is moved onto the plane and into a seat. Lifting a patient for these transfers is a difficult and potentially dangerous process.
It is worth noting that municipal bus manufacturers have figured out how to immobilize an entire wheelchair and patient, and airlines have not. Air travelers are not allowed to stay in their own wheelchairs. This is a shame, because a person who inhabits one all the time has adapted it to her or his individual needs, and an airplane seat is a very inadequate substitute.
The Soltesz couple made the transatlantic trip every year, so they were familiar with the complicated process, but it had never been so difficult before. They tried a third airline, Lufthansa, which called in the fire brigade and other experts to help get Mrs. Soltesz safely ensconced in the plane. But ultimate authority of course lies with the captain, and the other employees were unable to satisfy this captain as to this passenger's ability to be properly buckled down. Mrs. Soltesz and her husband stayed in Hungary and she died soon afterward.
Believing that the airlines "had a duty to get her home to her doctors," the patient's husband and Attorney Ronai are suing the airlines for $6 million. (Actually, there is no specific rule that even requires an airline to supply seat belt extenders.)
It's easy to imagine what the other side will say in court. Could a duty even be asserted if the patient had a communicable disease? How much accommodation is "proper"? Don't they have doctors in Hungary? Did the American doctors warn Mrs. Soltesz against intercontinental travel, as it seems they would caution a patient in such poor health? Was she traveling against medical advice? If so, shouldn't the apportionment of blame take that into consideration?
(to be continued…)
Your responses and feedback are welcome!
Source: "Obese flier turned away by airlines dies overseas," NBC News, 11/27/12
Image by xmichh (Michelle Lee).