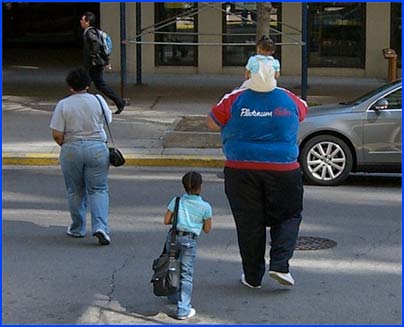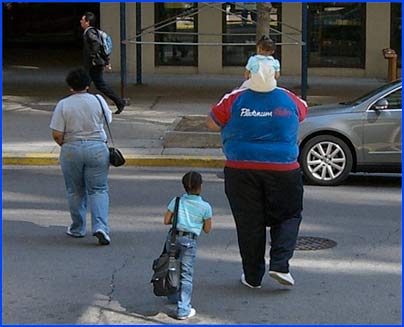 The EarlyBird Diabetes Study, even though technically still in progress, has already reported on a number of interesting findings, and different people have gotten interested in different aspects. When attempting to predict whether a baby is at risk for obesity, there is the question of influence exerted by the parent of the same sex and the parent of the opposite sex.
How did this question arise? If pure genetics were the determining factor, the numbers would come out the same for daughters of fat mothers, sons of fat mothers, daughters of fat fathers, and sons of fat fathers. But the numbers do not come out the same. An uncredited piece in The Telegraph says:
Data collected by the researchers found that 35pc of eight year-old girls whose mothers were classed as obese were also obese, compared with 8pc of the daughters of women who were overweight and 5pc of girls whose mothers were classed as normal weight.

In the case of boys, 17pc of those whose fathers were obese also suffered with the condition, compared with 5pc of the sons of overweight men and 3pc of those with normal weight fathers.
In other words, girls are more likely to follow their mothers' example, and boys are more likely to follow their fathers' example. The researchers interpret this clue to mean that behavioral, rather than genetic, factors are at work here. To phrase it in yet another way:
According to the findings, the daughter of an obese woman was 10 times more likely to be obese than a girl with a normal weight mother (41pc against 4pc). The son of an obese father was six times more likely to be obese than the son of a normal weight man (18pc against 3pc), the study concluded.
A metastudy conducted by the University of Nottingham, also in Great Britain, learned other things about mothers and their kids:
Children of mothers who were overweight before pregnancy were 1.37 times more likely to be overweight at the age of three; 4.25 more likely to be overweight at the age of seven; and 2.36 times more likely to be overweight between the ages of nine and 14 years.
The same researchers found that the period of breastfeeding shouldn't be too short, or the baby is slightly more likely to become overweight. And when a baby is on formula, don't put an end to that stage too soon either, because starting on solid food too soon seems to be an obesity risk indicator.
This study did not find links between childhood obesity and the parents' education level or ethnicity, which surprised many people. But then things got crazy. The Imperial College, London, made its new tool available to the public. Salynn Boyles says:
The formula calculates childhood obesity risk based on variables that include the baby's birth weight, both parents' body mass index (BMI), whether the mother smoked during pregnancy, her professional status, and the number of people living in the baby's home… The single most predictive factor was the BMI of the mother and father at the time of the child's birth.
The data came from 4,000 Finnish children who were born 26 years ago, and extrapolating backward from their present condition, it was possible to develop the predictive formula. The team states that all the risk factors they are working with have already been identified, but never before have they been combined together in quite this way. Also, this study found that better educated mothers make more money and when a family has more money, the children's risk of obesity is less. Which is, of course, not what the EarlyBird Study seems to show.
Dr. Philippe Froguel, one of the Imperial College study authors, issued a press release saying:
This test takes very little time, it doesn't require any lab tests and it doesn't cost anything.
Fast and cheap it may be, but does it do any good? Some health care professionals are not too excited. By now, the predictability rate for childhood obesity is fairly obvious. Though scientists agree or disagree to varying extents, most recognize that a primary goal must be prevention, because once kids start to become overweight, the struggle is much more difficult. And everyone is pretty sure that more attention needs to be focused on parents: educating, motivating, and helping them to change their behavior as the essential first step.
Your responses and feedback are welcome!
Source: "Fat women 'have fat daughters,'" The Telegraph, 07/13/09
Source: "Risk factors predict childhood obesity, researchers find," Medical Xpress, 10/30/12
Source: "Simple Formula Predicts Obesity Risk at Birth," WebMD, 11/08/12
Source: "Childhood obesity calculator may be most accurate predictor yet," CBS News, 11/29/12
Image by Kim Scarborough.